Every once in a while, I find the need to detox from all the cheese-stuffed, chocolate-dipped,sprinkled-topped creations that graze these pages. And there seemed like no better time than the present to lighten the caloric load with a healthier take on a comfort food favorite: Shrimp Scampi with Linguine.
Gone is the butter. Gone is the pasta. Gone is the white wine. Wait. I can't. I just can't do it.
I can sub olive oil for butter and zucchini noodles for pasta until the cows come home. But the wine? The wine must stay. So the great news is, you'll have your wine, and when all is said and done, you'll have spent just 30 minutes on this recipe for Skinny Shrimp Scampi with Zucchini Noodles. Now you have extra time to hit the gym. And by "hit the gym," I mean "make No-Bake Chocolate Cookie Pops."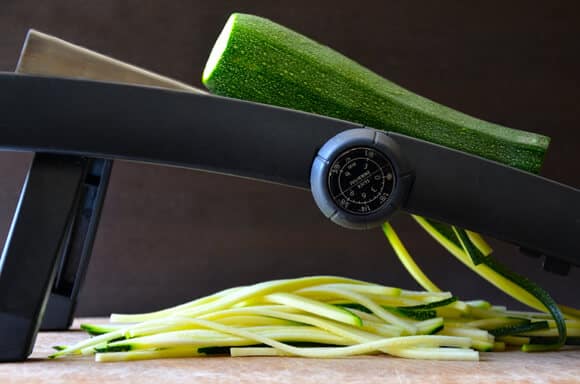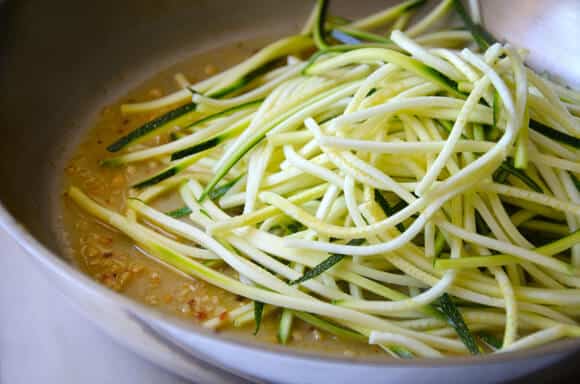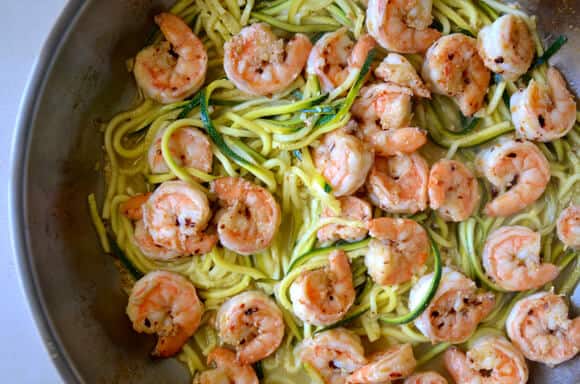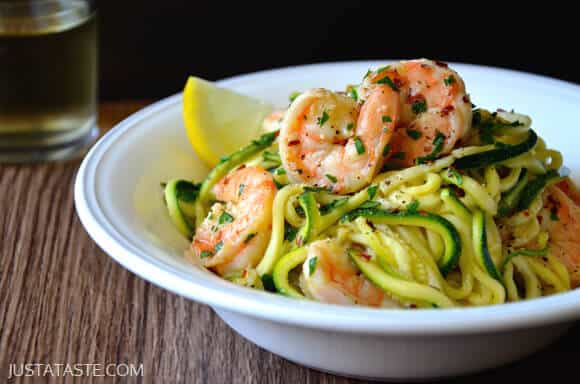 Skinny Shrimp Scampi with Zucchini Noodles

Yield: 2 to 4 servings

Prep Time: 20 min

Cook Time: 10 min

Ingredients:

2 Tablespoons olive oil
1 pound jumbo shrimp, shelled and deveined
1 Tablespoon minced garlic
1/4 teaspoon crushed red pepper flakes (optional)
1/4 cup white wine
2 Tablespoons freshly squeezed lemon juice
2 medium zucchini, cut into noodles (See Kelly's Notes)
Chopped parsley, for garnish

Directions:

Place a large sauté pan over medium-low heat. Add the olive oil and heat it for 1 minute. Add the garlic and crushed red pepper flakes and cook them for 1 minute, stirring constantly.

Add the shrimp to the pan and cook them, stirring as needed, until they are cooked throughout and pink on all sides, about 3 minutes. Season the shrimp with salt and pepper and then using a slotted spoon, transfer them to a bowl, leaving any liquid in the pan.

Increase the heat to medium. Add the white wine and lemon juice to the pan. Using a wooden spoon, scrape any brown bits from the bottom of the pan, cooking the wine and lemon juice for 2 minutes. Add the zucchini noodles and cook, stirring occasionally, for 2 minutes. Return the shrimp to the pan and toss to combine. Season with salt and pepper, garish with parsley and serve immediately.

Kelly's Notes:
To cut zucchini into noodles, use a mandoline or a spiralizer.