This no bake energy bites recipe is super simple to make, made with healthier ingredients, and they taste like no bake cookies! Be sure to click around on the site for more delicious and healthy recipes ideas.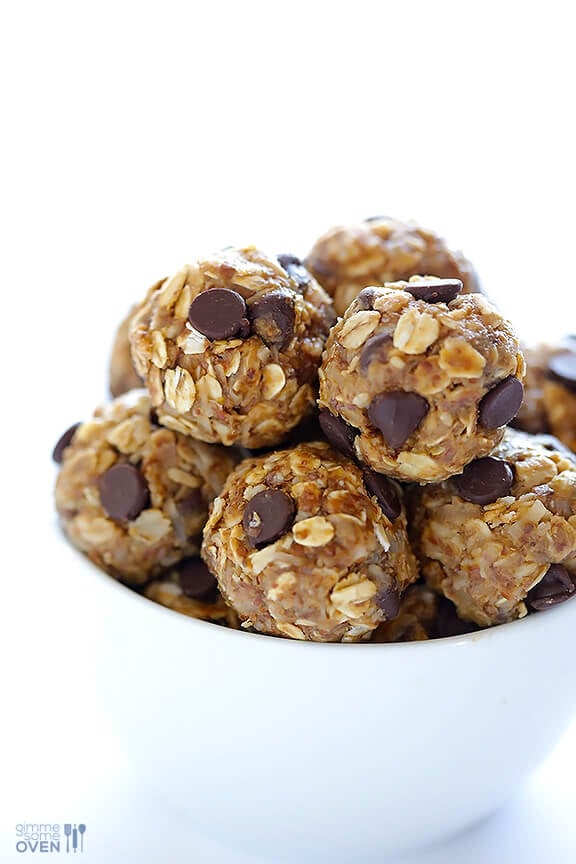 Hail to the no bake energy bites!
A few years ago when I first posted this recipe, I had never even heard of the term.  But now after literally millions of pageviews on this recipe, and watching countless other recipes pop up online, and making about 5.2 million batches of these myself, I think it's safe to say that no bake energy bites are a "thing".  And they are deliciously here to stay.
I don't know about you all, but I love these little guys.
Ever since my friend Courtney first introduced me to them on a ski trip in Breckenridge a few years ago, this no bake energy bites recipe has been on regular rotation in my house.  And for someone who doesn't dig recipe repeats or leftovers all that often, that's saying something.  I make a big batch at least once a month, and love popping them as an easy breakfast, a quick snack, a pop of protein before a workout, or even occasionally as a sweet dessert.
I've also posted about five different variations of this recipe on the site, from Cranberry Pistachio to Almond Joy to Nutella to Trail Mix energy bites.  And I also have all sorts of tips from those who have questions about nutrition and ingredient substitutions.  So scroll on down for the recipe, and hopefully we can answer any or your questions too.  So that all the world can enjoy All The Energy Bites.  🙂
I have to say that the original recipe for these No Bake Energy Bites is still my fav.  I originally just slightly adapted it from the blog Smashed Peas & Carrots, who came up with the brilliant idea for these all to begin.  The recipe calls for:
chocolate chips
toasted coconut
vanilla extract
peanut butter
old fashioned oats
honey (or agave nectar)
freshly ground flax seed
chia seeds (optional)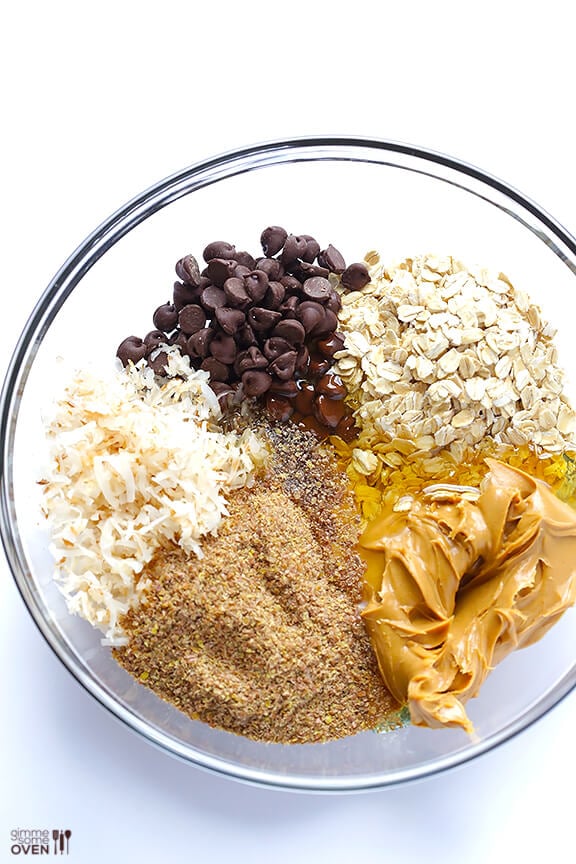 To make the no bake energy bites, just stir all of those ingredients together until combined.  (Or if you get tired of using a spoon, just use your hands.  I do!)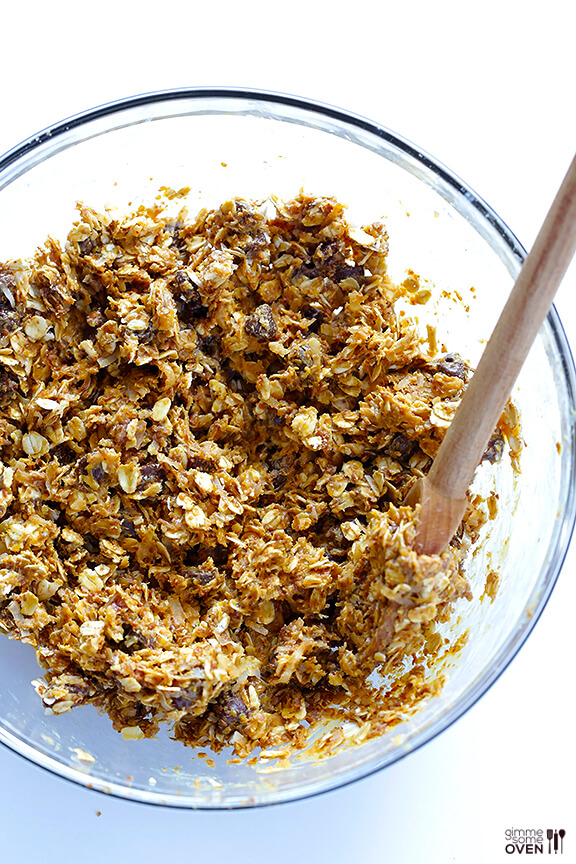 Once the mixture is combined, pop it in the fridge for 10-20 minutes so that it will harden slightly.  This will help make it easier to roll it into balls.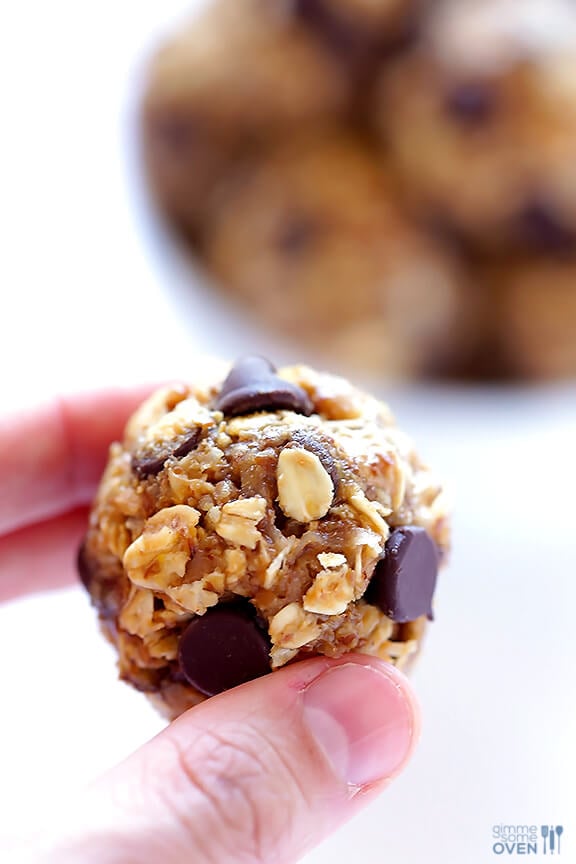 Then once the mixture has cooled slightly, shape it however you please!  I like shaping mine into 1-inch balls.  But you can make yours smaller or larger.  Or if you'd rather, just press the mixture into a baking dish lined with parchment paper, and you can make energy bars instead.  Whatever sounds good to you!
The best thing about this recipe is that it is super flexible as well.  So if you are allergic to any of the ingredients, or if you are just looking for other substitution ideas, feel free to use:
Different (or no) chocolate: I generally use dark chocolate chips.  But you can also substitute in any other kinds of chips (butterscotch, milk chocolate, white chocolate, cinnamon chips, etc.).  Or if you are vegan, I recommend cacao nibs.  Or if you don't dig chocolate, you can leave this part out all together.
Different nut butter: If you are allergic to peanuts, feel free to substitute in any other kinds of nut butter, like almond butter, sunflower seed butter, cashew butter, or others.  (For a great tutorial on homemade nut butters, check out this great post from Tasty Yummies.)
Different sweetener: I really prefer honey in this recipe.  But agave also works and is vegan, and some readers have had success with alternative sweeteners too.
In general, if you start experimenting with different ingredients or leave some ingredients out entirely, the balance of the recipe may be a little "off".  So if they get too dry, add a few more of the sticky ingredients like honey and/or peanut butter.   If they get too gooey, add in more oats.
The name of the game with this recipe is customization.  So feel free to give them a try and keep tweaking them to whatever specific combination tastes and feels good to you.  Cheers to more energy bites in our future
NO BAKE ENERGY BITES
These delicious little no bake energy bites are the perfect healthy snack!
INGREDIENTS:
1 cup (dry) oatmeal (I used old-fashioned oats)
2/3 cup toasted coconut flakes
1/2 cup peanut butter
1/2 cup ground flax seed
1/2 cup chocolate chips or cacao nibs (optional)
1/3 cup honey or agave nectar
1 tablespoon chia seeds (optional)
1 teaspoon vanilla extract
DIRECTIONS:
Stir all ingredients together in a medium bowl until thoroughly mixed. Cover and let chill in the refrigerator for half an hour.
Once chilled, roll into balls of whatever size you would like. (Mine were about 1″ in diameter.) Store in an airtight container and keep refrigerated for up to 1 week.
Makes about 20-25 balls.
Source : gimmesomeoven