Like chicken noodle soup for grown ups. And vegetarians. A one-pot soup filled with vegetables, garbanzo beans and orzo pasta. Finished with a generous squirt of lemon juice for a bright + bold fall soup.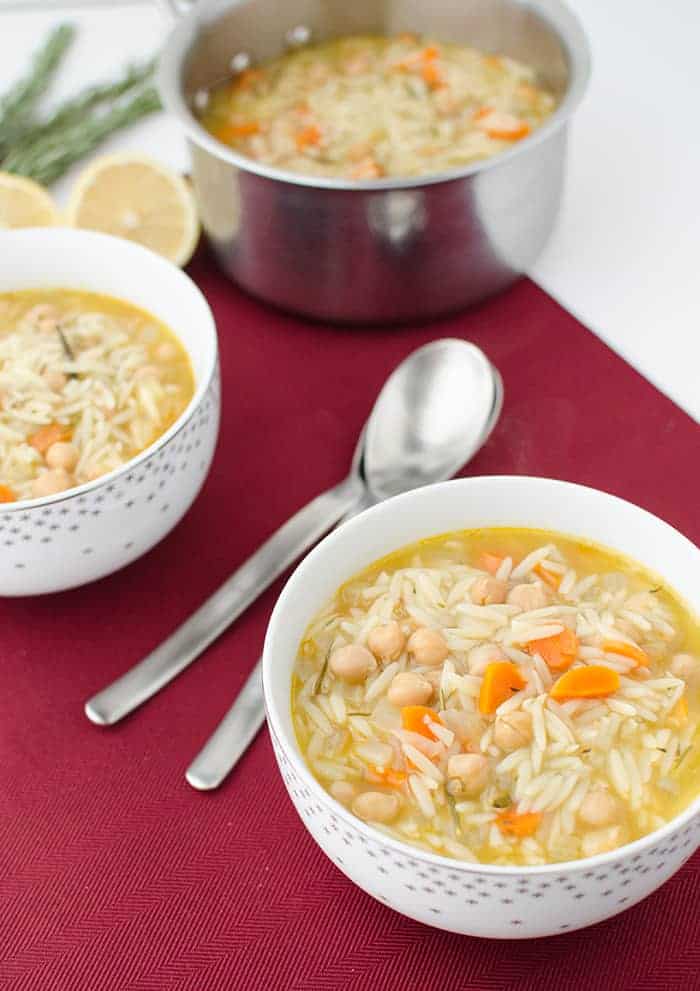 October is National Pasta Month! Although, I have been celebrating all year. It's no secret that I have an extreme love affair with pasta. Pasta in the morning. Pasta in the evening.  I have yet to meet a pasta that I didn't immediately fall in love with. Sometimes, I even read "Everyday Pasta" in bed before falling asleep just to be inspired for dinner the next night. True story <— Please send help.
This much love, however, is not without consequence. Mostly in the serving size department. 
Because, while pasta is certainly not the evil it's made out to be in certaincircles, it can be pretty calorically dense. So, with the exception of my pumpkin fettuccine binges, I try hard to convert pasta into a nutrient dense meal.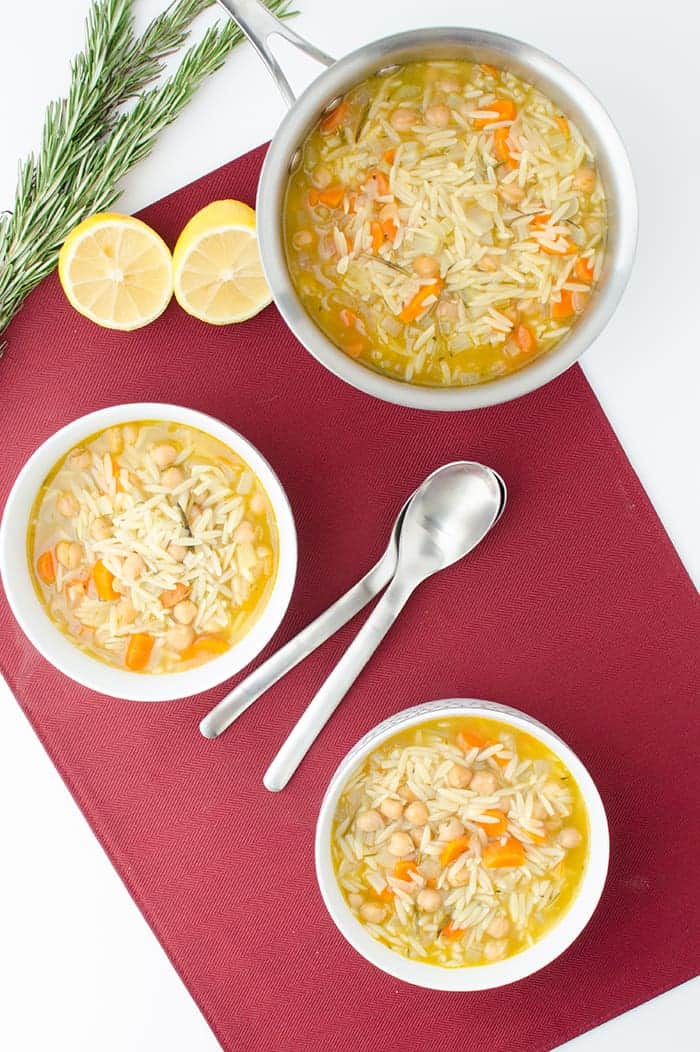 Add protein, add vegetables, add one serving size of pasta, and you've got yourself a hearty yet healthy meal. The other fantastic part about pasta is that most boxes ring in at less than $2. It's affordable and easy to prepare.  Great for busy lifestyles.
Pasta also pairs perfectly with vegetables and lean proteins, and this lemon chickpea orzo soup is no exception. I love the combination of lightly cooked vegetables, garbanzo beans and orzo! This soup makes a ton (8 servings), and the entire recipe only calls for 1 cup of pasta. That means for each giant bowl, you are getting a serving size of 1/8th cup of pasta.
Look at those bowls- does it look like 1/8th cup to you? That's the power of nutrient dense eating.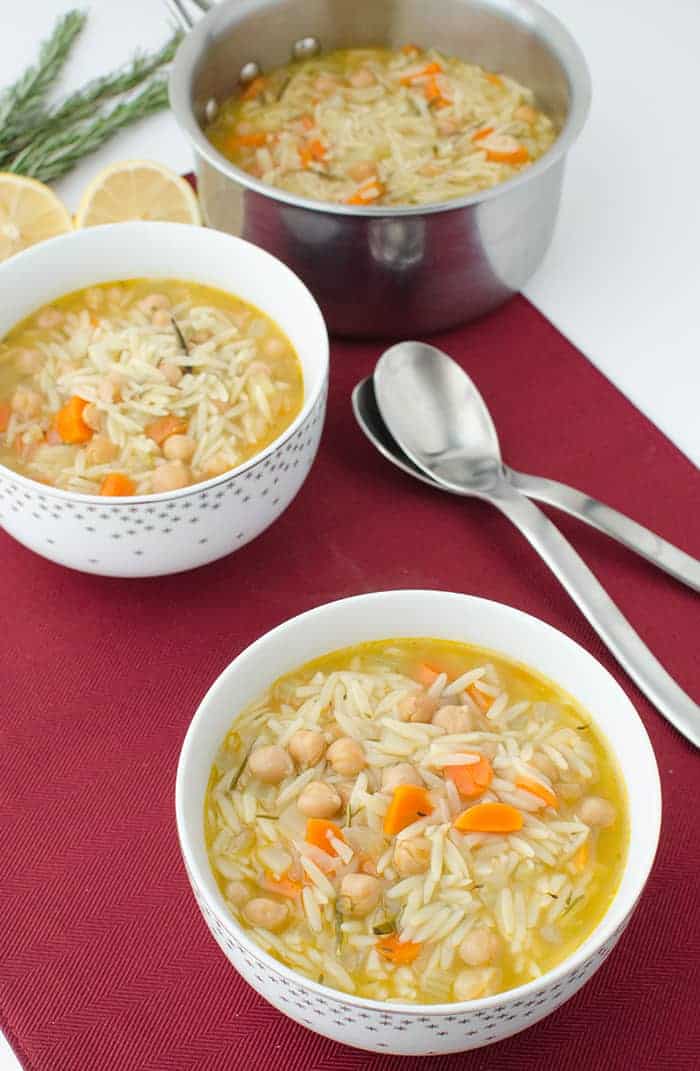 Lemons in soup?!  Yes.
Every week at the market, I buy a bag full of lemons to brighten up just about every dish. A squeeze of lemon is my secret-ingredient weapon for making food look bright & taste fresh. A few slices in my glass also gets me to drink way more water than I typically would.
As expected, lemons also work their magic in this soup. So yes, I have started putting lemon juice in soup now. I would call it weird it if wasn't so delicious; a squirt at the end is transformative.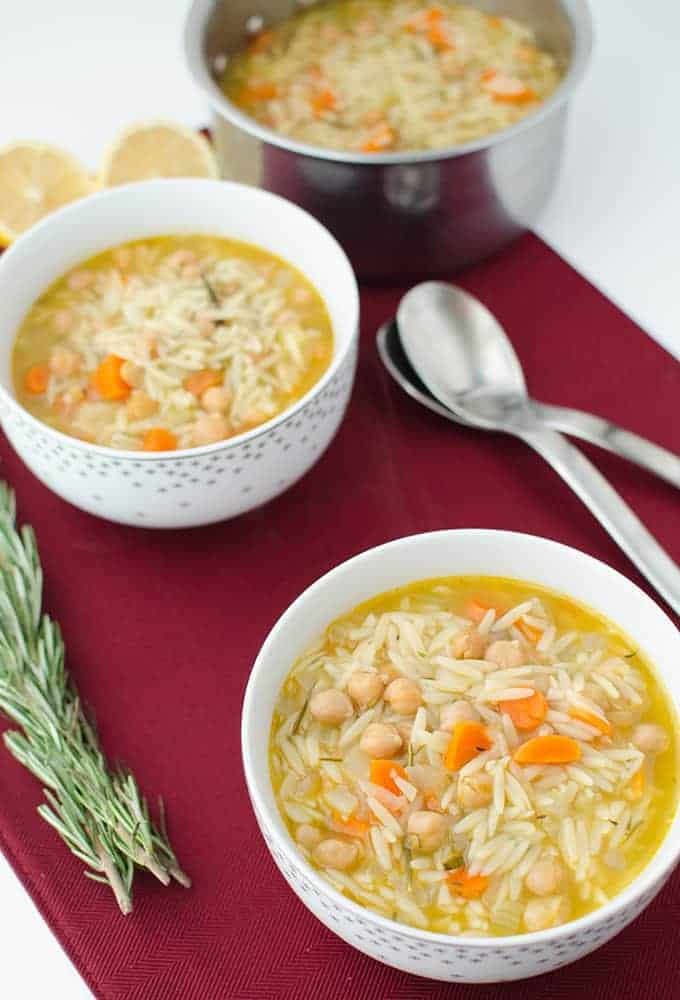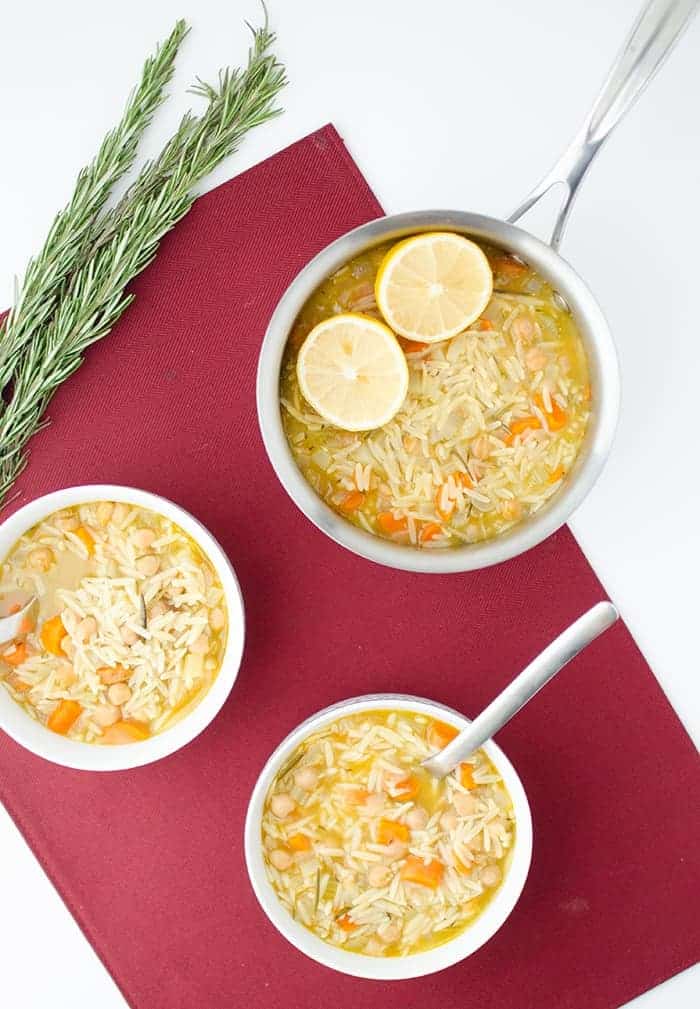 I have entered this recipe into a contest sponsored by the National Pasta Association and am eligible to win prizes associated with the contest. I was not compensated for my time.
LEMON CHICKPEA ORZO SOUP
Author: Alex Caspero
Serves: 8
INGREDIENTS
1 tbsp. olive oil
1 onion, diced
2 large carrots, halved lengthwise and finely sliced
3 celery stalks, chopped
3 garlic cloves, minced
½ tsp. dried thyme
6 cups vegetable broth + 1 cup water
1 can chickpeas, rinsed and drained
1 small sprig rosemary
1 cup orzo
1 bay leaf
⅛ cup fresh lemon juice
INSTRUCTIONS
Heat the olive oil over medium heat. Add the onion, carrots, celery and garlic. Cook for 5 minutes until vegetables are soft.
Add the thyme and pinch of pepper; stir together.
Add the vegetable broth and water and bring to a boil.
Add the chickpeas, rosemary, orzo and bay leaf. Reduce heat to a low simmer and cook for 10 minutes until orzo is cooked through.
Reduce heat to low and stir in lemon juice.
Image and content: delishknowledge