This Vegan Crockpot Quinoa and Black Bean Chili needs only 10 minutes prep then right into the crockpot! It results in a thick, filling and delicious chili.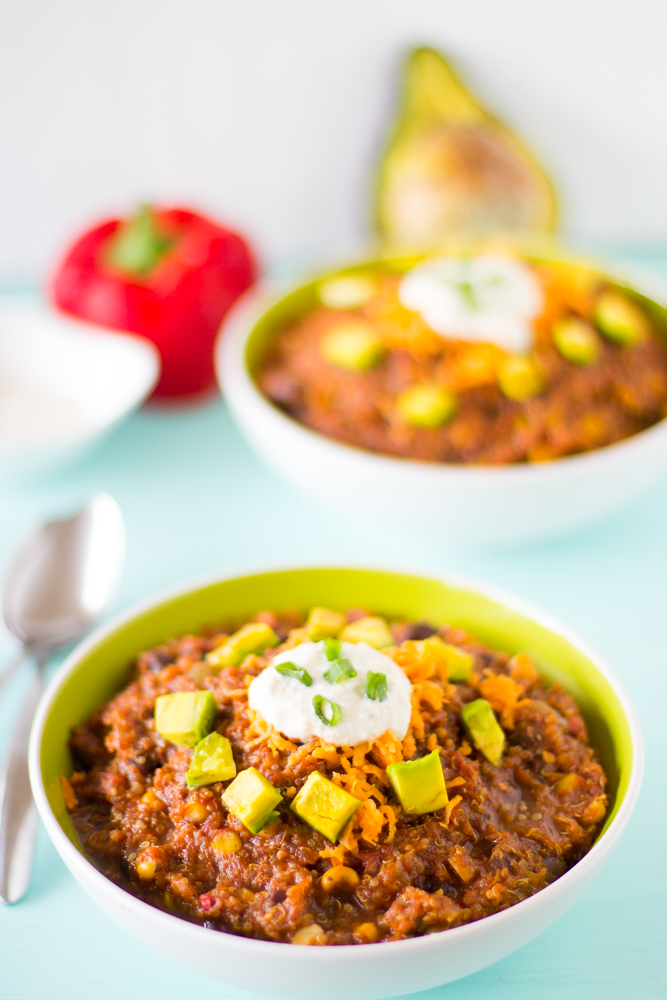 It's been raining non-stop and I've been craving nothing but soups, warm foods, and chilis. If you see "chills" autocorrect is out for me tonight. This is one of those accidental vegan dishes which I personally think are the best kind. I'll let you know from now: this chili is going to rock your world.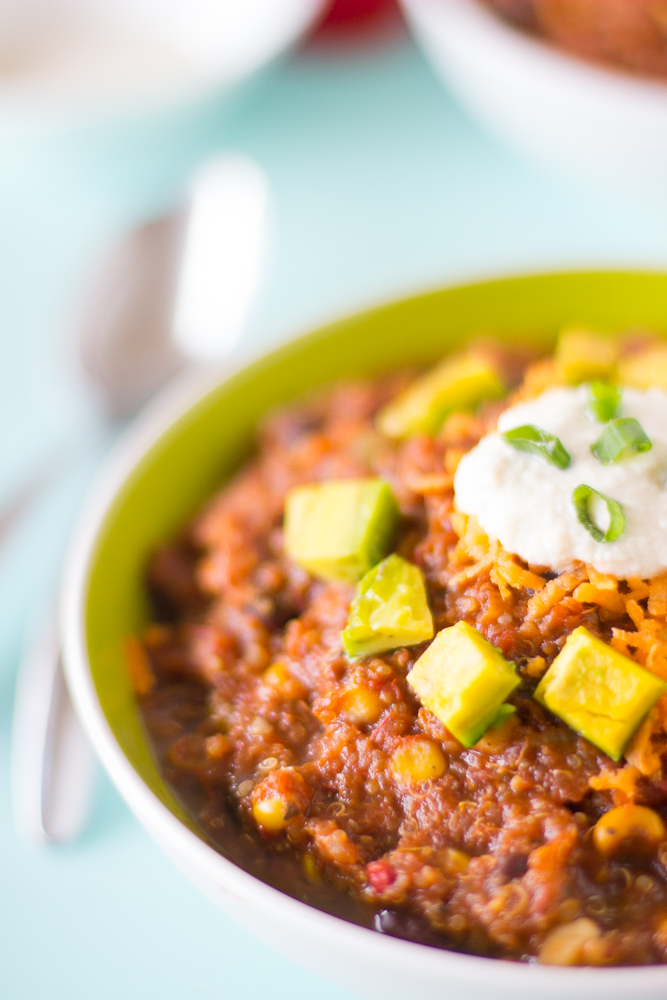 Before I get into how delicious this was and how I had it for days one end, might I mention, it finally happened: I started planning the wedding!! After what seemed like a pretty daunting list of tasks, I got a planner, bound it, and my maid of honour and I started planning earlier this week. I've got to say, watching marathons on Say Yes To The Dress for years did not prepare me for the amount of work that has to be done in planning a wedding! Of course it's all fun and exciting but I completely understand why this is a full time job now.
If anyone is hiring an "add to registry" person, I'm here. I must say, I've gotten pretty good at adding tons of items to my registry. And willing them into my future house. Whoa, future house! Okay, let's back up a bit and get back to this chili.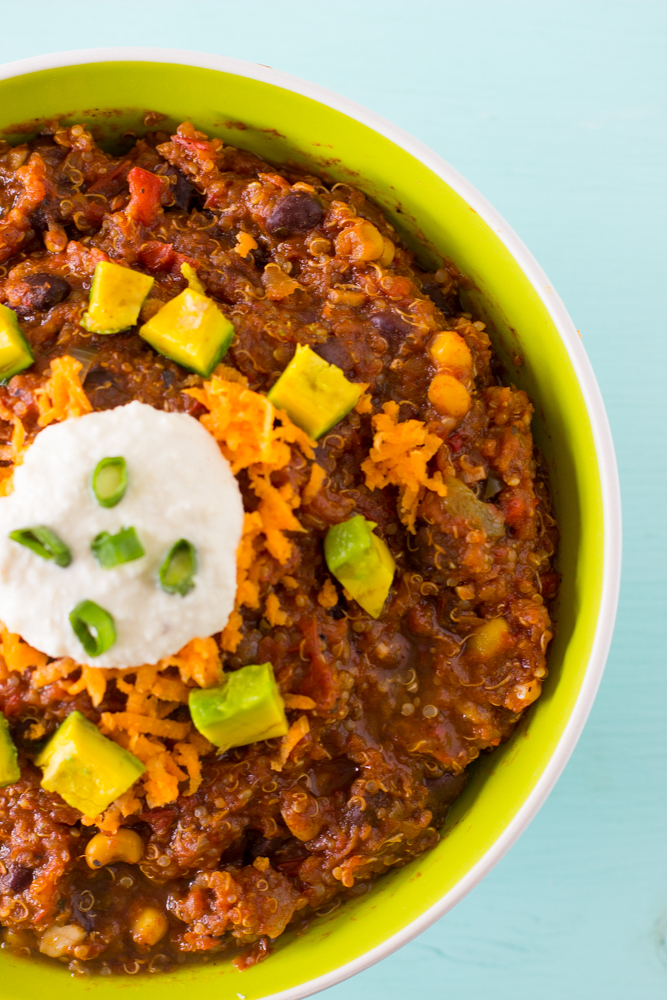 You know I hate the word "meaty" but this chili is VERY filling and meaty! I'm talking juicy, chewy, chunky veggies, and thick packed with flavour quinoa and black beans all coming together for a very tasty chili. I was a bit skeptical about a vegan chili working, but I was so surprised and happy with the results. Mr. Bakes enjoyed it thoroughly too, and as someone (him) who has had more chilis than I've had PB & J sandwiches (okay, maybe not, I had two today alone) this was a huge compliment. I kept freaking out that it was going to be too dry but we definitely got all the portions down pat.
Without a doubt, I will be making this chili again and again this fall season. I just stocked up on the ingredients, which most of which you'll already have in your house, to make it again. The recipe makes quite a lot, and the chili lasts up to 2 weeks in the fridge but it's easily freezable. I already have my next chili on my mind – something with sweet potatoes which I know would taste so decadent because of how soft it would be.
Here's to fall (almostttt there), rainy days, and more chili!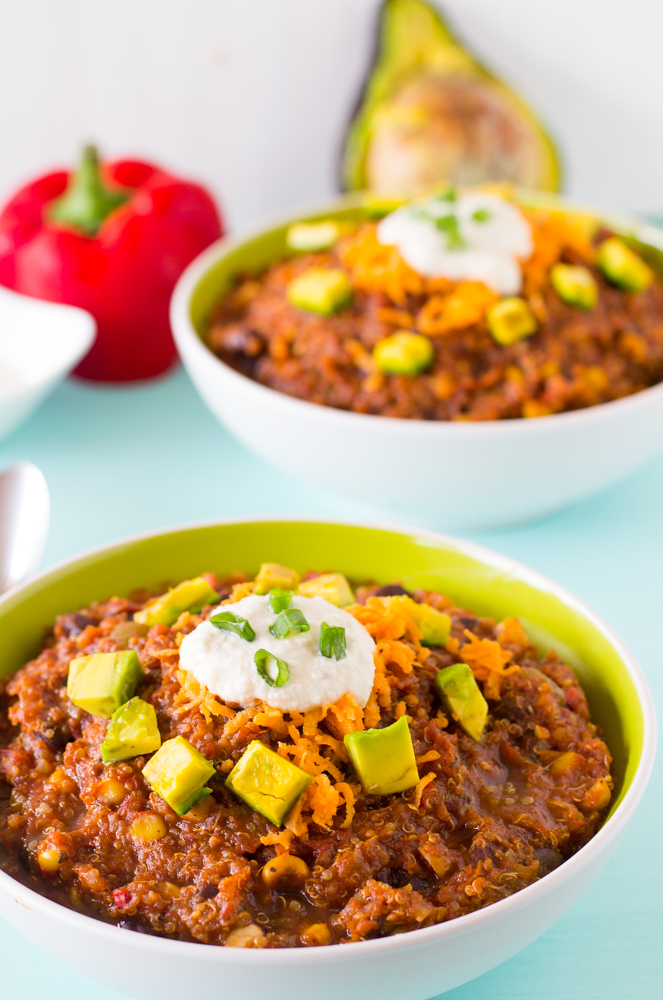 VEGAN CROCKPOT QUINOA AND BLACK BEAN CHILI
INGREDIENTS
2¼ cups vegetable broth
½ cup uncooked quinoa
15 oz can black beans
½ container 28 oz diced tomatoes
¼ cup chopped red bell pepper
¼ cup chopped green bell pepper
1 shredded carrot
½ onion, chopped
2 cloves garlic
½ small chili pepper
2 teaspoons chili powder
¼ teaspoon cayenne pepper
1 ½ teaspoon salt
1 teaspoon ground black pepper
1 teaspoon ground cumin
1 teaspoon oregano
½ cup corn kernels
Toppings
chopped avocado chunks
chopped green onions
shredded carrot
Vegan Cashew Sour Cream
½ cup soaked cashews (cashews soaked in water overnight)
3-4 tablespoons water
splash apple cider vinegar
½ teaspoon fine sea salt
1 teaspoon lime juice
INSTRUCTIONS
Add the broth, quinoa, black beans and tomatoes to the slow cooker. Stir to combine.
Next add the peppers, carrot, onion and garlic, and stir, then add the rest of the seasonings and stir a few times to combine.
Set the slow cooker (Crock-Pot) to high for 2 ½ to 3 hours or on low for 5-6 hours (for high, monitor the last 30 minutes and for low, monitor the last hour).
Vegan Cashew Sour Cream
Blend all the ingredients for cashew sour cream in a high speed blender (I use a NutriBullet) until smooth, for about 30 seconds, scraping blender once halfway in between.
Serve on chili with your favourite toppings (avocado, chopped green onions).