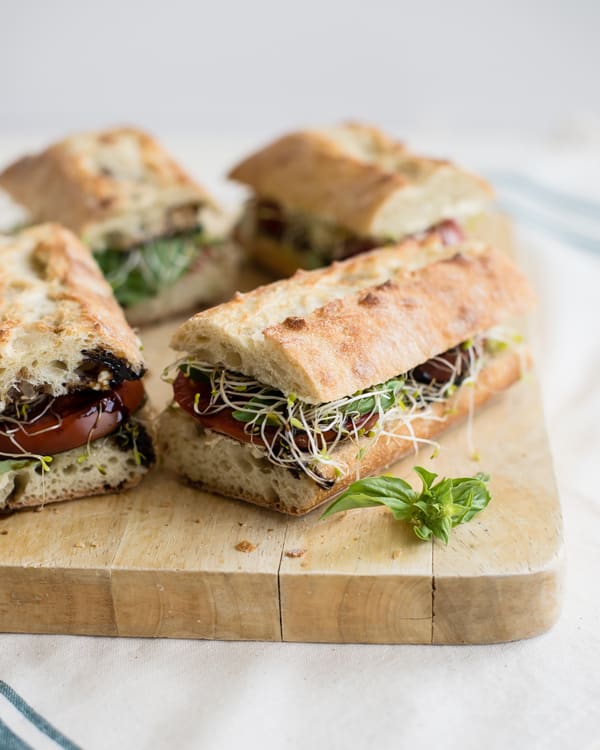 Photos by Lindsey Johnson.
Hello all! My name is Alissa and I blog over at a little vegan site known as Connoisseurus Veg. I've been a vegetarian for over twenty years, and I've been a culinary enthusiast as long as I can remember, so most of my veg tenure has been spent doing some kind of experimentation in the kitchen. I'm not 100% vegan, but I find that the more plant-based my diet is, the better I feel. I also get a geeky kick out of veganizing recipes, so I've opted to go in that direction with my blogging. Having said all that, today I'd like to share a veganized version of the classic Italian Caprese sandwich.My first few experiences with vegan cheese took place maybe a dozen or so years ago and were rather disappointing, to say the least. Since then, the quality of store-bought vegan cheese has gone way up. Not only that, but the quality of homemade vegan cheese has also gone up … sort of.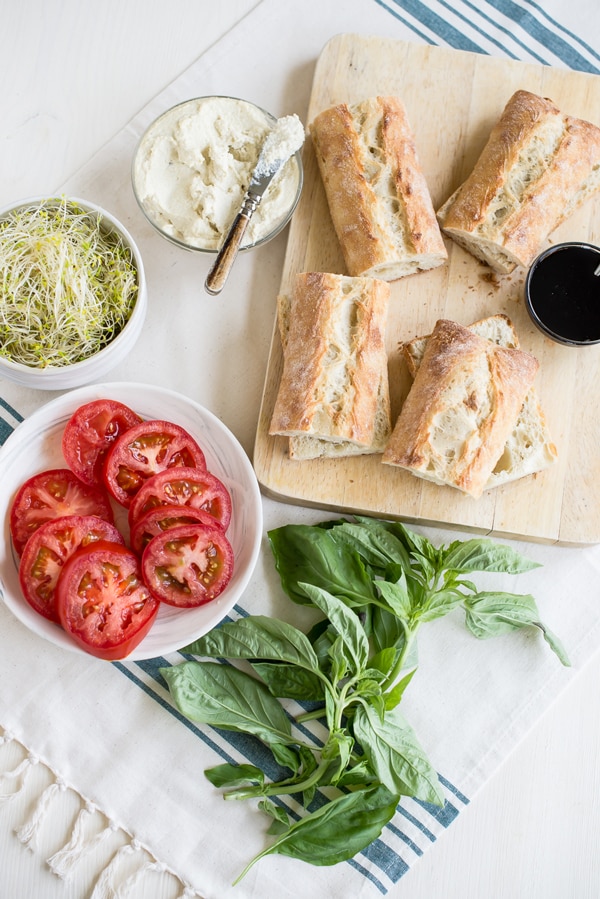 Okay, you got me. My secret vegan cheese ingredient is cashews, and cashews were around way before I ever tried making vegan cheese. Somehow it seems like we've all just caught on recently though. Or is it just me? I credit the magic of the internet and, ahem, food bloggers for spreading the joy that is cashew-based cheese. If you're new to vegan cheesery (which you probably are, considering I just decided "cheesery" is a thing), you'll probably be surprised at how simple it is. While a few different varieties of nuts and seeds can be transformed into cheese, cashews are generally the easiest to work with. Raw cashews are the way to go. The flavor is neutral and they blend up silky and creamy after a few hours of soaking in water. A little oil along with some non-dairy milk helps the nuts blend super-smooth and takes them from a thick paste to a rich, spreadable cheese base. As far as flavoring your cheese goes, the sky is the limit, and I've found this to be the fun part. I kept things pretty simple for this recipe, opting to go with a little lemon for tang, along with some garlic, simply because it goes deliciously with the classic tomato-basil caprese combo. You can create different flavors to mimic different cheese varieties by using ingredients like nutritional yeast for a zippy-cheddary flavor, miso for sharpness, different types of vinegars for sourness and even powdered spices.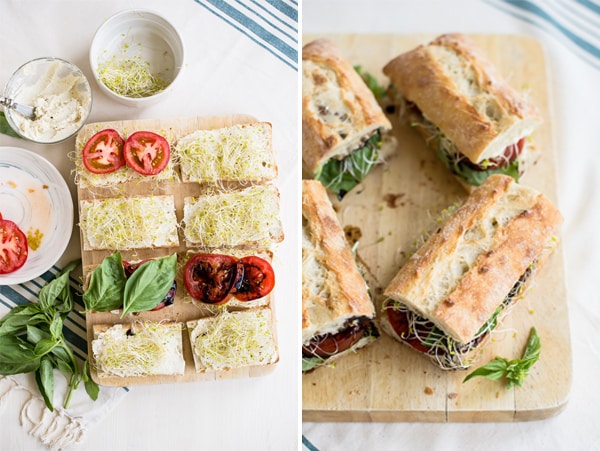 Once you've gotten comfortable with the flavoring step, you always have the option of adding something to harden it up, for a more sliceable cheese. I usually end up using agar for this, which is a vegan gelatin-like ingredient derived from algae. Agar needs to be completely dissolved in hot liquid before adding it to your cheese base, so it adds a little work to the process. I find agar to be great when my goal is to replicate dairy cheese in taste, look and texture -– most often just for fun or to satisfy my yearning for some halloumi. When taste is my main goal, as it was with these Vegan Caprese Sandwiches, I just go for the soft, blended cheese.
vegan caprese sandwiches with garlic cashew cheese
 A crusty baguette smeared with creamy garlic cashew cheese and then filled with juicy tomatoes, crunchy sprouts, fresh basil, and a sweet balsamic reduction. We're nuts for this sandwich!
ingredients
For the garlic cashew cheese
1 cup raw cashews, soaked in water for 4-8 hours, then rinsed and drained
2 medium garlic cloves
2 tablespoons lemon juice
2 tablespoons unflavored soy or almond milk
1 tablespoon olive oil
1/4 teaspoon salt
1/2 teaspoon pepper
For the sandwiches
1/3 cup balsamic vinegar
1 baguette, cut into 4 sections, or 4 long sandwich rolls, sliced open
1/2 cup clover or alfalfa sprouts
2 medium tomatoes, thinly sliced
1 cup fresh basil leaves
instructions
For the garlic cashew cheese:
Place cashews and garlic into blender or food processor. Blend to a paste, stopping to scrape down the sides of the bowl occasionally. This can take up to a few minutes, depending on what type of device you're using.
Add lemon juice, milk, olive oil, salt and pepper. Blend again until everything is completely mixed and smooth.
To assemble the sandwiches:
Heat the balsamic vinegar in a small saucepan over medium heat. Simmer for about 10 minutes, or until the vinegar is syrupy and reduced to about 2 tablespoons. Remove from heat. (Note that you can also use un-reduced balsamic vinegar — use 2 tablespoons.)
Spread a layer of cheese on each side of each baguette section. Distribute a layer of sprouts over the cheese.
On the bottom half of each of your sandwiches, top the sprouts with tomato slices, and then drizzle your tomato slices with balsamic vinegar. Arrange the basil leaves over tomato slices, then place the top half of your baguette section over your tomato-basil layer and serve.
notes
If you're using a larger blending device, like a Vitamix, you may want to consider doubling the batch size for the cheese, as you might not be able to keep enough of your mixture around the blades to get a thorough blending. Two cups is a rather big batch size, but the good news is that you can freeze it! If you don't freeze it, you can get away with storing it in the fridge for up to a week. On a similar note, feel free to freeze a portion of the cheese from a recipe-size batch if you want fewer than four sandwiches. I wouldn't suggest going with a smaller batch size than this recipe specifies, because you might run into the problem of it splattering away from the blades too much for good blending, regardless of what type of blending device you're using.
Source : ohmyveggies