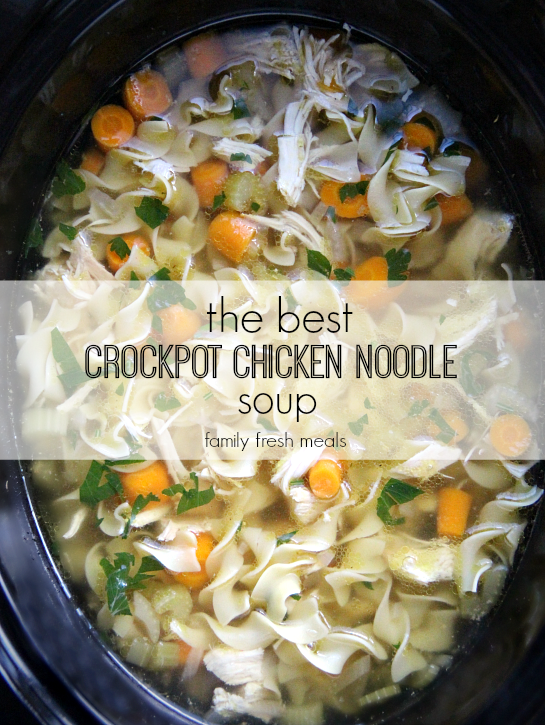 As you know, I LOVE SOUP! And what I love even more is soup that I can cook in thecrockpot.  Yes it takes longer, but I'm a set-it and forget-it kinda gal.
After posting my 25 Comforting  Crockpot Soups post, I had SEVERAL emails requesting a crockpot chicken noodle soup. Well, I listened, and here it is my friends!
The Best Crockpot Chicken Noodle Soup
Ingredients
1 1/2 lbs boneless skinless chicken breasts
2 cups carrots, peeled and chopped
1 medium yellow onion, diced
3 stalks celery, chopped
3-4 cloves garlic, minced
3 Tablespoons extra virgin olive oil
1/2 teaspoon dried thyme
1 bay leaf
6 cups chicken broth (use my EASY homemade broth or low-sodium)
1 cup water
Salt and freshly ground black pepper, to taste (I used 1/2 teaspoon salt & 1/4 teaspoon pepper)
2 cups uncooked wide egg noodles (recommend brand is No Yoke, see note below)
3 Tablespoons chopped fresh parsley
NOTE: In the comments, you will see that a few people have reported their noodle disintegrating after adding them to the crockpot. I have no idea why this is happening, and have NEVER had that happen any of the times we have made this soup. BUT, I have only used No Yoke brand noodles. Other people have also reported success with No Yoke Noodles and Walmart Generic brand noodles. If you do not have access to those brands of noodles and are concerned, you can also just boil your noodle separately.
Directions
1. In a 6 quart crockpot place whole chicken breasts on the bottom and top with , carrots, onion, celery, garlic, olive oil, thyme and bay leaf.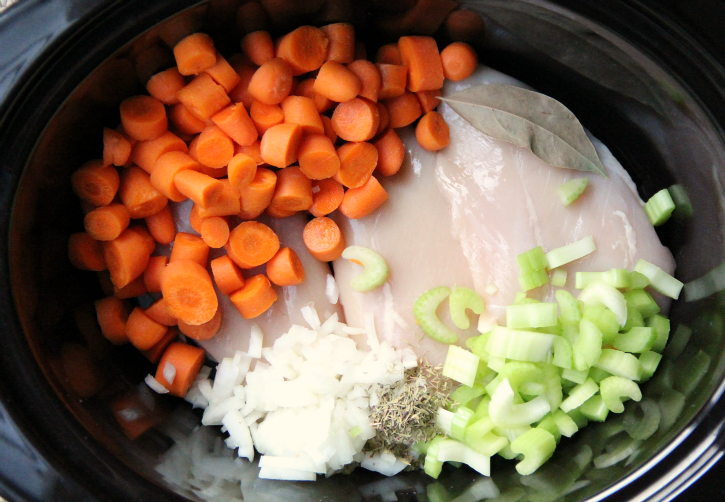 2. Next add in chicken broth, water, and season with salt and pepper to taste. I used 1/2 teaspoon salt & 1/4 teaspoon pepper.
Cover and cook on low heat 6 – 7 hours.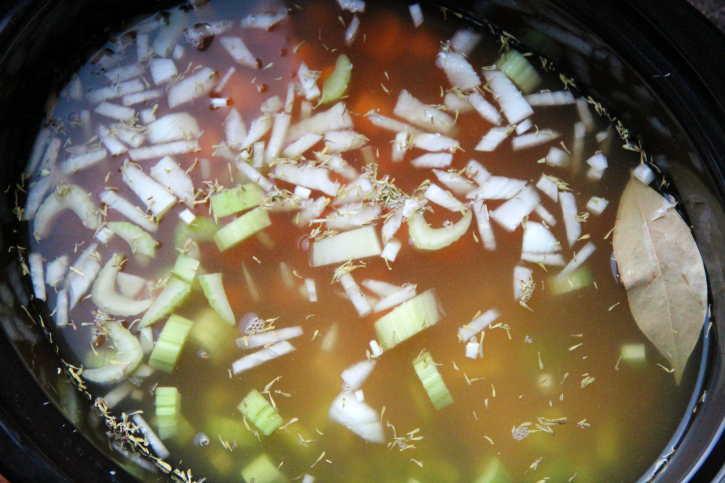 3. Remove cooked chicken breasts and cut into bite sized pieces. Place chicken back in to the crockpot. Now add in egg noodles and parsley.
Cover and cook just until noodles are tender, 5-10 minutes.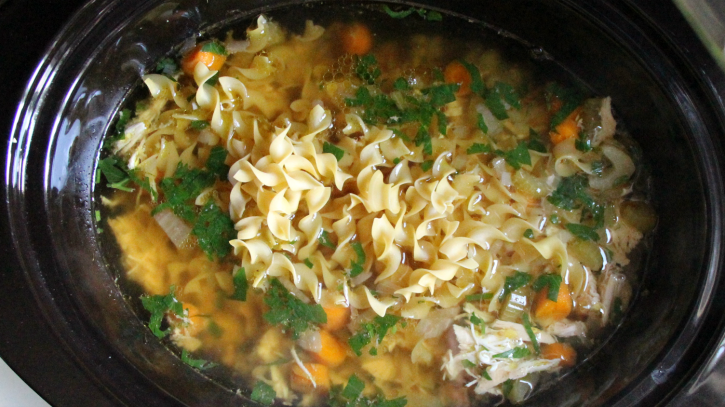 Enjoy with your favorite crackers!
Source: familyfreshmeals