What's awesome about this recipe, is that it reminds me of one GIANT Chipotle burrito bowl.
I am a GIANT Chipotle fan 

 I get the same thing every time- can you guess what it is? A GIANT chicken burrito bowl 

It's been a while since I posted a one pot meal, but it is Sunday….so why not!
This recipe calls for extremely simple ingredients and doesn't take much work to make. Best part…it's full of flavor!
I topped mine with freshly sliced tomatoes, avocado, and more cilantro! Blake was really excited I used instant white rice instead of brown (wahhhhhhh), but that's all we had. Next time- I would FOR SURE use brown rice…the only issue with that, is you would have to cook it before hand so that it's fully cooked when the casserole is done.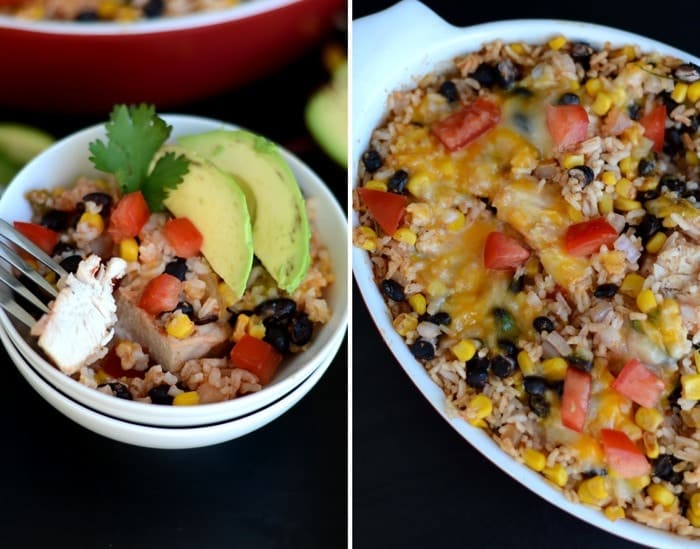 You could add other yummy things into this casserole such as bell pepper and garbanzo beans. I kept mine simple…because that's what I had on hand at the time.
We've been running our food stock down to the ground because Blake and I will both be traveling over the next couple of weeks. He actually left for Brazil yesterday for 2 weeks as part of his MBA program. I AM SO JEALOUS. LIKE SO BEYOND JEALOUS. Spouses were not invited and going down a week before or after wasn't really an option because flights are 2 grand.
Soooooooooo I go to Cleveland to visit the parents. Cleveland..Brazil….same thing.
NOT.
But- later in the week I will be headed to Ohio to stay with my parents for a week. I'll be working mostly- but also feeding their bellies! That's the cool thing about what I do- I can pretty much be anywhere, as long as people are hungry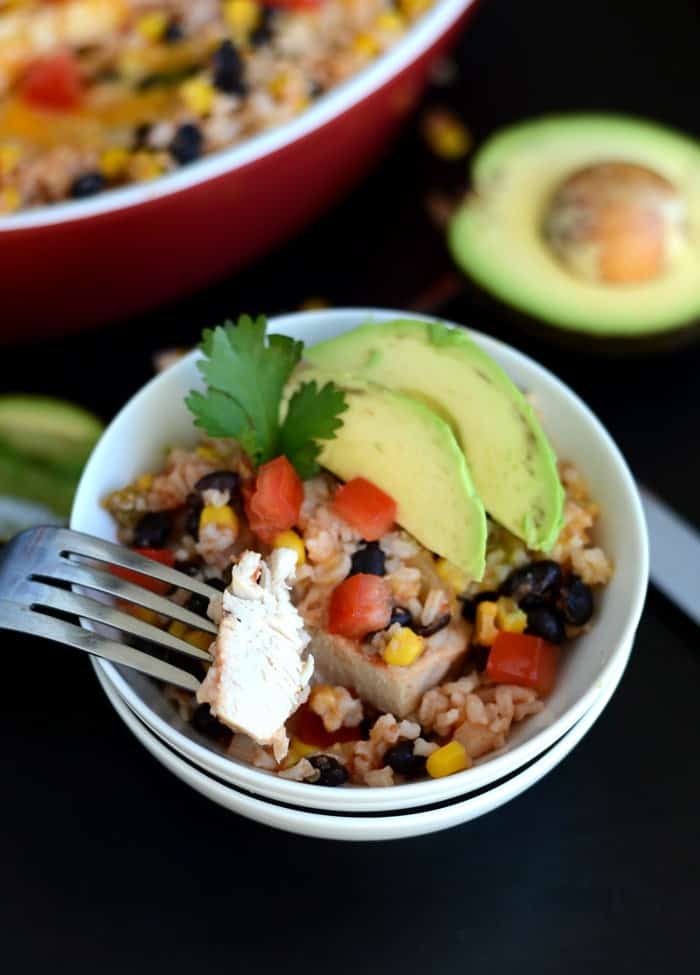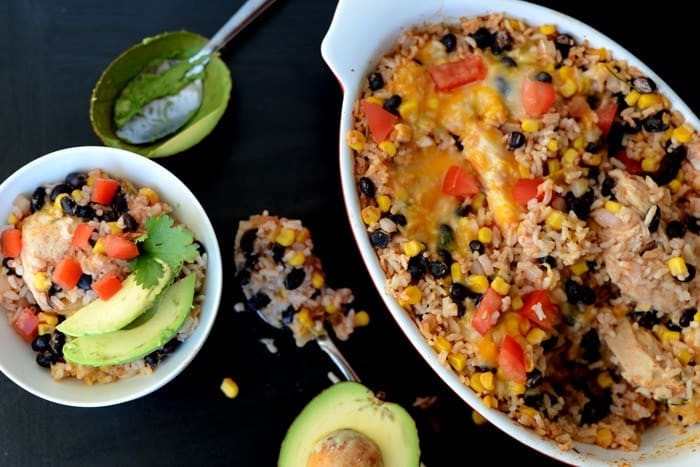 Southwestern Chicken Casserole
Ingredients
1.5 cups quick cooking rice (white or brown will work)
2 cups chicken broth
1/4 cup finely diced onion
1 15 oz can corn, rinsed
1 15 once can black beans, rinsed
2 large chicken breasts evenly sliced about an inch thick (uncooked)
1.5 cup salsa (mild, medium, or hot- your choice!)
-1/4 cup fresh cilantro, chopped
-1/4 teaspoon paprika
-1/2 teaspoon chili powder
-1/2 teaspoon cumin powder
-1/4 teaspoon onion powder
-Optional- 1/2 cup Colby Jack Cheese
-Toppings: Shredded Colby Jack Cheese, fresh tomato, avocado, cilantro
Instructions
Preheat oven to 350 and spray a large baking dish with nonstick cooking spray.
In a large bowl, mix together everything but the chicken (you can add 1/2 cup of cheese if you are a cheese person, I did not do this step).
Then, slice chicken breasts into about inch thick pieces. Place strips of chicken (uncooked) on the bottom of baking dish and top with rice mixture. Cover with aluminum foil and bake at 350 for 1 hour.
Uncover and top with shredded cheese. Bake for an additional 10 minutes.
From : fitfoodiefinds