Healthy Reese's Fudge — a soft and fudgy peanut butter fudge filling with a decadent and rich chocolate shell…  you'd never know these cubes of deliciousness are low in sugar, high in fiber and packed with protein!
Okay, so…..  I'm officially done with my junior year in college!  

I was technically done with the semester on Sunday, because like the goody two shoes I am (not), I completed my final ten-page essay early (!!!)
It took about 24 hours for "the end" feeling to sink in.  I kept thinking I had some deadline ahead or some other exam to study for, but nopity nope!  This semester was particularly tough on me because I was taking 19 credits to make up for my freshmen year where I took 13 in the Fall and 14 in the Spring.  It's a really strange feeling, though, being "free."  I don't like it, I feel tense.  Do you ever feel that way?
So I walked to my kitchen and got busy.  Like, really busy.  All day yesterday I was in the kitchen, morning to night.  I made nine recipes on my baking to-do list.
I love walking to my fridge and seeing dessert on every shelf.  Immediately when I open the door I swear I hear a choir of angels singing.  I guess I know what I'm eating for breakfast, lunch and dinner for the entire week  

Then on Friday it's BlogHer time in Miami and I get to see my family for the first time in months.
Best. Week. Ever!  (especially the fudge-for-breakfast part…  

 )
Healthy Reese's Fudge… aka Chocolate-Coated Peanut Butter Fudge! (low fat, high protein & gluten free)
Ingredients
Peanut Butter Fudge Filling:
one batch Healthy Peanut Butter Fudge
Chocolate Shell:
4oz Dark Chocolate, chopped into chunks (I used Theo's 70% cacao)
1 tsp Coconut Oil
Instructions
Make the Peanut Butter Fudge.
After refrigerating overnight and slicing the fudge, place the fudge cubes on a cookie tray lined with a sheet of parchment paper. Place in the refrigerator while you prepare the chocolate.
In a microwave-safe bowl, add the chocolate and microwave at 30-second intervals, stirring between each one, until melted, then stir in the coconut oil.
Take the fudge out of the fridge. Toss a piece of fudge into the chocolate and use a fork to coat it entirely and remove it from the chocolate. Tap off any excess chocolate, then place the cube onto the prepared cookie sheet. Do this with the rest of the fudge, and reheat the chocolate if necessary.
Chill the cubes until the chocolate hardens, then serve.
Notes
This no-bake recipe is: low sugar, low fat, high protein and gluten free!
Here is a nutrition label comparison between the original Hershey's fudge recipe and the healthified Desserts with Benefits recipe: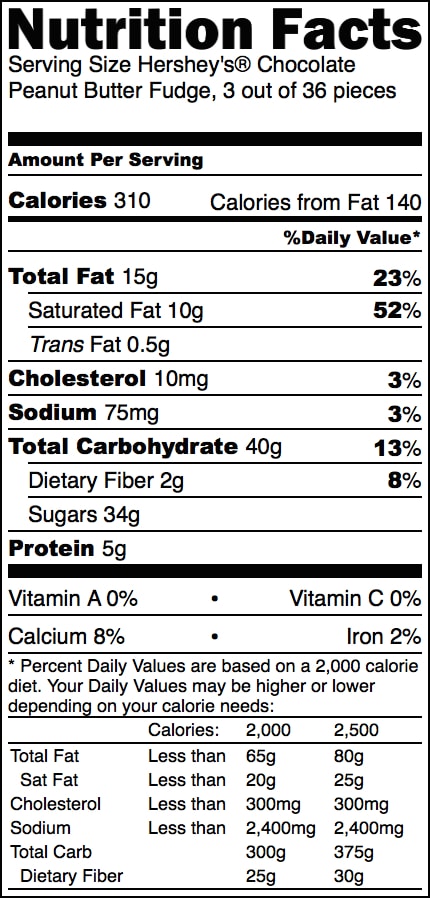 I'm speechless.  Seriously.  I couldn't defend Hershey's, my ex-love, even if I tried — trans fats, a ton of sugar, fat, calories…  no thanks.
Source :dessertswithbenefits