This Chocolate Chia Smoothie recipe tastes oh-so-decadent, but is actually really good for you. And it's vegan and gluten-free!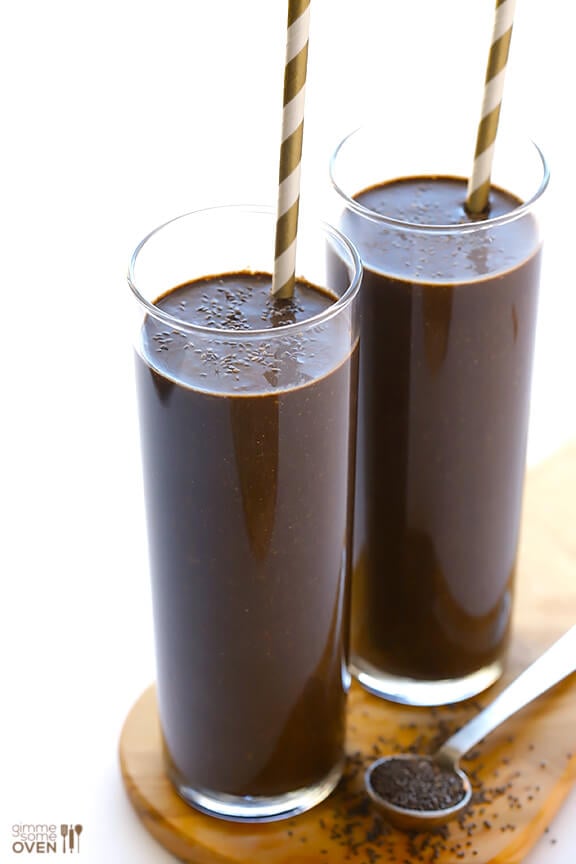 I'm not quite sure how it happened.  But somewhere along the lines of the last 2 years of self-employment, after years of a late-to-bed-late-to-rise musician schedule, I have now officially become a morning show person.
Still working on the morning person thing.  My body seems bent on the whole nightowl thing.  But the blogging world and Twittersphere are up early, so about a year ago I turned on a morning show for the first time in about a decade to help wake me up.  And now I basically can't go a morning without tuning in to at least say a quick hello to Josh, Lara, Robin, George and the gang.
Oh yeah, it's GMA all the way at my place.  Yes, yes, I know that 90% of it is fluff news.  But apparently their advertising has worked because they are now totally a "part of my morning".  And I kind of wish Lara Spencer would be my best friend.  🙂
Anyway, the other main part of my morning nowadays is smoothie-making.  I shared last week about how I'm back on the smoothie kick, so I have a backlog of recipes photographed that I need to share with you.  And this chocolate chia smoothie is one of 'em.  You could arguably call it a "shake", since it tastes so darn decadent and delicious.  But don't let that chocolate fool you.  This is basically a healthy green smoothie hiding behind a bit of naturally-sweetened cocoa.
And it's super easy to make.  Here's the skinny…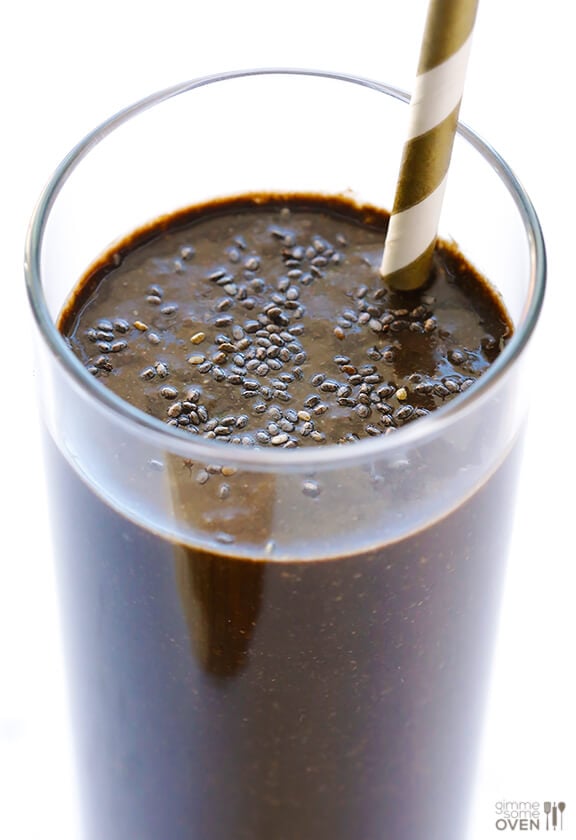 Basically, this is your classic chocolate green smoothie with a bunch of extra chia seeds added into the mix.  I had some fresh spinach on hand, so added that in for my greens.  Then I just added in a banana, some milk (I used almond milk), unsweetened cocoa powder, a hint of vanilla and lots of chia seeds.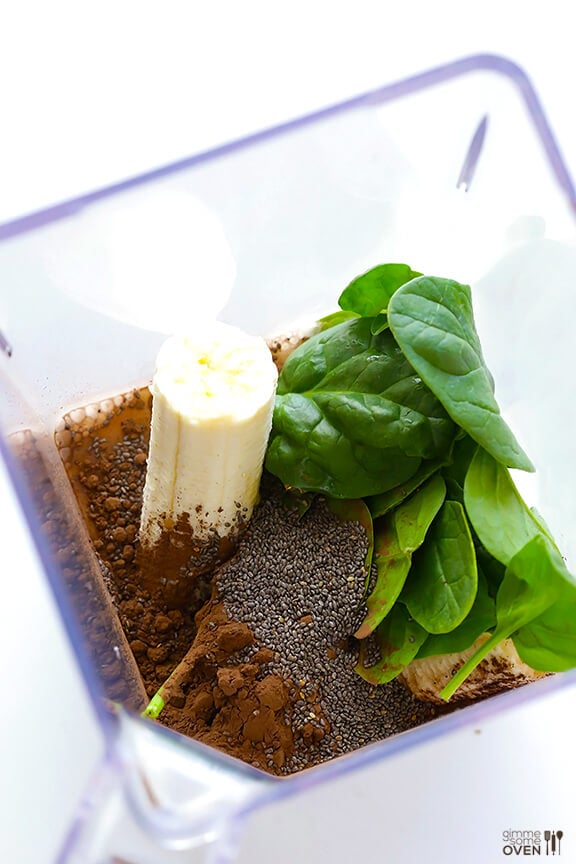 Oh, and I forgot to add ice before I snapped this photo.  Be sure to throw in about a cup full of cubes.  (Or if you're using a frozen banana, you may not need them.)
Then just pulse in a blender until it's nice and smooth!  If you feel like it needs a little sweetening, you can add in some honey or your choice of sweetener.  But I loved it just as-is.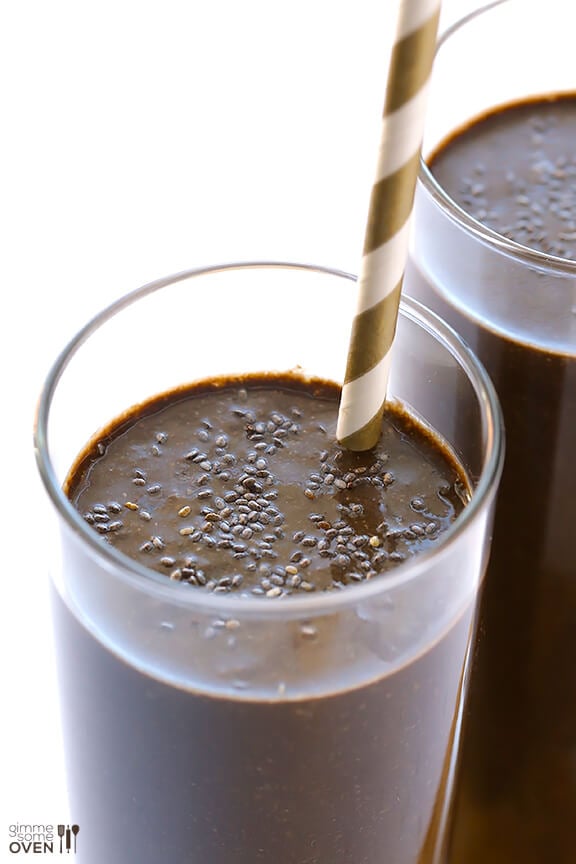 Such a rich and delicious treat, made all the more so knowing that it's actually good for you.  I'd call it a perfect way to start the day.  (And I kind of think Lara would love it, don't you??)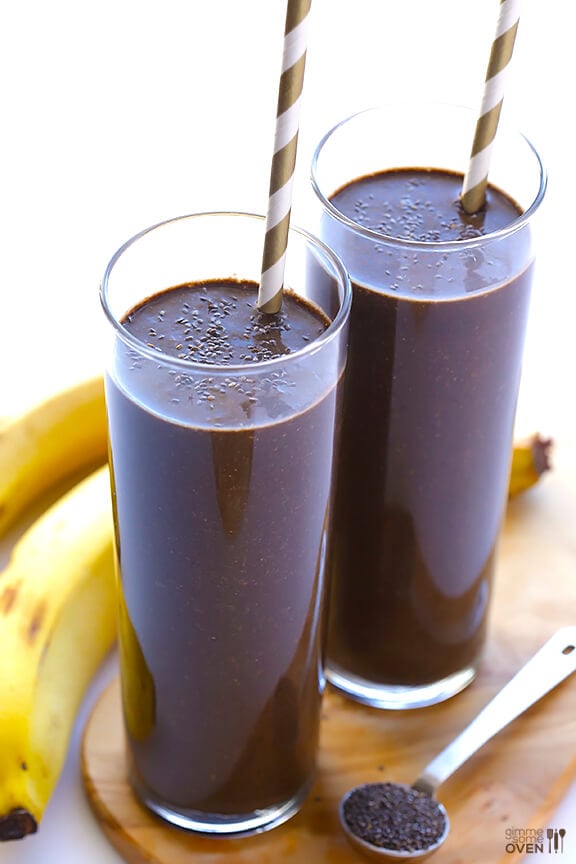 CHOCOLATE CHIA SMOOTHIE
This chocolate chia smoothie recipe tastes decadent, but is actually easy to make and great for you!
INGREDIENTS:
1 banana, peeled
1 cup tightly-packed fresh spinach
1 cup ice
1 cup milk (I used almond milk)
3 Tbsp. chia seeds
2 Tbsp. unsweetened cocoa powder (I used dark cocoa powder)
1/2 tsp. vanilla extract
(optional: 1 Tbsp. honey, if needed to sweeten)
DIRECTIONS:
Add all ingredients to a blender and pulse until smooth.  Serve immediately.