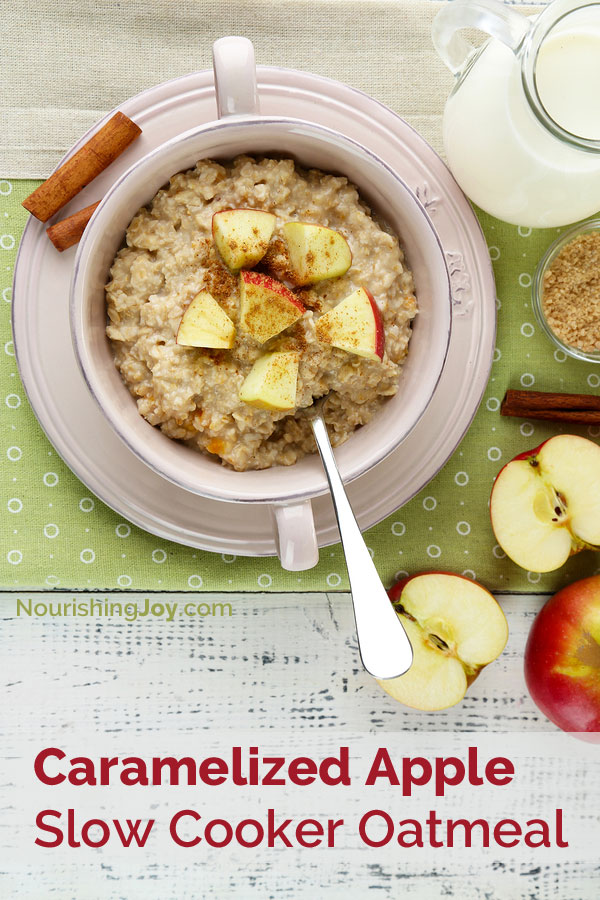 My daughter, who refuses to eat oatmeal, declares this "Inside Out Apple Pie" to be her favorite breakfast. (Her brother calls it "Apple Pudding.")
It's oatmeal, all right, but with lots of apples and a bit of sweet caramelly goodness, so somehow in her seven-year-old mind, it's not her despised breakfast nemesis and will gobble down two bowls before I can sufficiently cool the servings for her two little brothers.
And really, I shouldn't even call this Caramelized APPLE Slow Cooker Oatmeal, because it works just as well with fresh peaches, cherries, berries, and other fruits that stew well and that you would typically serve with oatmeal.
And of course, it's made with natural sweeteners that are adaptable to your family's tastes.
The only caveat is that it takes 10-15 minutes to pull together in the evening, since you have to cut up all the apples, but if that's okay with you, this recipe certainly is very easy – and DEFINITELY could be taught to the kiddos to make themselves (just dump in blueberries instead of cutting up apples if you don't trust your kiddos with knives quite yet…..).
So, really, this recipe is one of the best kind: it's a slow-cooker breakfast, it's easily gluten-free, the kids can take ownership of preparing breakfast, and it's just plain delicious.
Here's to easy mornings!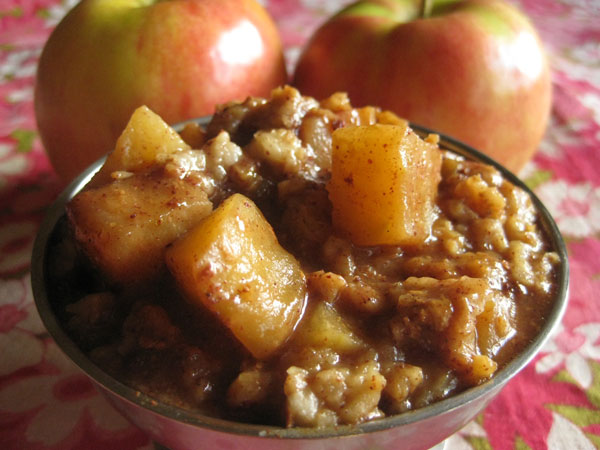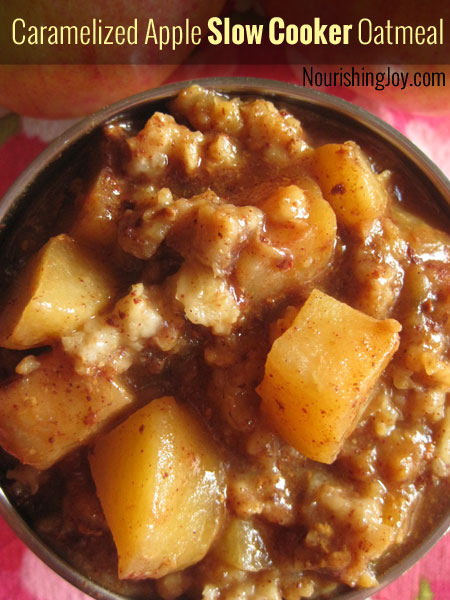 CARAMELIZED APPLE SLOW COOKER OATMEAL
Serves 6
INGREDIENTS
2 pounds sweet or tart apples (about 5 large or 9 small apples), chopped into 1-inch pieces – peeling is optional
3/4 cup brown sugar, more or less to taste (see how to make your own brown sugar)
pinch of sea salt
1 tablespoon cinnamon
1/2 teaspoon freshly-ground nutmeg
juice from half a lemon (1-2 tablespoons)
2 cups rolled oats (gluten-free if necessary)
2 cups whole milk
2 eggs (optional)
1 1/2 cups water
INSTRUCTIONS
Generously grease the bowl of a slow cooker (a deep 3-quart one works well).
Toss the apples, brown sugar, salt, cinnamon, nutmeg, and lemon juice in a large bowl, then add the oats and stir again. Pour into the greased slow cooker insert.
Either in the same bowl or a new one, whisk the eggs into the milk until the mixture is very smooth. Add the water and whisk again. Pour over the apple-oat mixture.
Cook on low for 6-9 hours or on high for 4-5 hours. Cook time will vary considerably according to brand and size of slow cooker, so if you don't like crispy edges on your oatmeal, make this recipe for the first time during the day when you can gauge the progress of the oatmeal.
NOTES
To caramelize the apples more, skip the tossing step at the beginning and instead, layer the apples, brown sugar, salt, cinnamon, nutmeg, lemon juice, and oats in the greased insert (in that order) and do not stir.
Whisk the milk, eggs, and water as described and pour over the layered apples and cook as directed.
Source : nourishingjoy