This soup recipe tastes so rich and creamy, you'd never know it's low in calories and fat. Well,relatively low when you compare it to other cream-based soup recipes. We're having soup weather in St. Louis now, so it was time to make a pot of this deliciousness.
Brackenthebox and Rachel made this for us when we visited them in Boston recently. They found the recipe in Cooking Light and it has become a favorite of theirs. The original recipe uses baked potatoes, but I sometimes substituted some of my leftover slow cooker mashed potatoes. It was a great way to use up leftovers, and it made this soup really fast to make. However, if you want a chunkier soup, the roughly mashed baked potatoes work better.
Update: I recently started making a sour cream substitute out of cottage cheese (tastes like the real thing!) that can be used in this recipe to lower the calories & fat, and boost the protein. You can't tell the difference, so why not?
Nutritional Information
For a 1-1/2 cup serving without garnishes:
using light sour cream: 264 calories, 8.2g fat, 35.3g carbs, 10.7g sugars, 3g fiber, 12.5g protein.  Weight Watchers PointsPlus: 7

using sour cream substitute (made from cottage cheese): 249 calories, 5.1g fat, 35g carbs, 10.7g sugar, 3g fiber, 15.5g protein; Weight Watchers PointsPlus: 6 (see my recipe for sour cream substitute link above)

If you garnish your bowl of soup with one crumbled slice of crispy bacon, it adds 31 calories, 2.4g fat,.1g carbs, 0g fiber, 2.1g protein; and 1 Weight Watchers PointsPlus
Here's all you need to make this creamy delight.
Ingredients: potatoes (either baked or leftover mashed), flour, 2% milk, low fat sharp cheddar cheese, salt, pepper, low fat sour cream (or sour cream substitute), and green onions.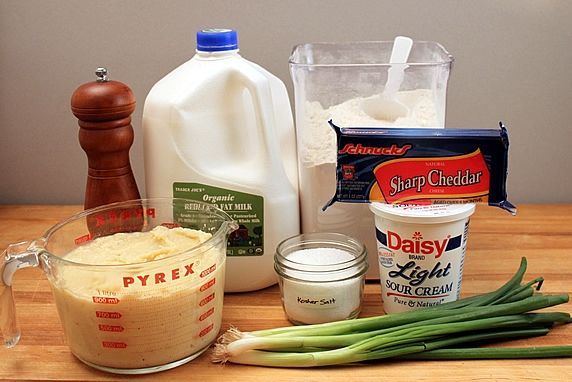 And you'll need 6 strips of cooked bacon to crumble for a garnish. This is optional, but I sure as heck wouldn't leave it out. An excuse to eat bacon? I'm all over it. I bake bacon in the oven for a tidier, easy method. Here's how.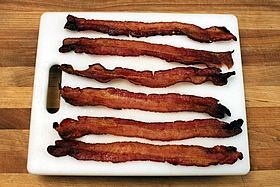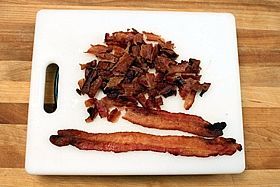 The rest is just so simple. You combine the ingredients in the order described in the recipe below, heat them up, sprinkle on cheese, green onions, and bacon for garnish. Done! Two thumbs up from King-Man and T-Man.
Try serving this with my Cheesy Jalapeno Cornbread. A perfect combo.
Make ahead tip: Bake the potatoes the day before. That makes it very quick to throw this soup together the next day. Or, if you're having baked potatoes for a meal, bake some extra potatoes while you're at it. Then you'll be ready to make soup without heating the oven up twice.
This reheats well. That means a quick lunch the next day. Yum!
Here are some possible variations to try:
Stir in a favorite fresh herb like dill or thyme.
Add 1-2 cups of chopped ham (omit the bacon garnish).
Add clams to turn it into a quick clam chowder.
This is one of our favorite soups. I love that it's easy and tastes so rich, but I don't have to feel guilty about eating it! What's your favorite soup when the weather turns cold?
Make it a Yummy day!
Monica
Baked (or Mashed) Potato Soup
By Monica              Servings: 8 1-1/2 cup servings
Ingredients
4 baking potatoes–approx 2-1/2 lbs; OR 4 cups leftover mashed potatoes
2/3 cup flour
6 cups 2% milk
1 cup low-fat shredded extrasharp cheddar cheese, divided
1 teaspoon salt (if using mashed potatoes that have been seasonal already, reduce amount of salt added)
1/2 teaspoon freshly ground black pepper
1 cup low-fat sour cream (or sour cream substitute made from cottage cheese*)
3/4 cup chopped green onions, divided
6 bacon slices, cooked and crumbled
Directions
–If baking the potatoes, pierce them with a fork and bake at 400 degree for approx. 1 hour, until tender. Let them cool enough to peel, then roughly mash them. OR, use leftover mashed potatoes.
–Add flour to large pot or Dutch oven. Slowly whisk milk into the flour–keep stirring until it's blended. Cook over medium heat, stirring frequently, until it starts to thicken (8-10 minutes). Add the mashed potatoes, 3/4 cup cheese, salt, and pepper. Stir until the cheese is completely melted.
–Stir in the sour cream and 1/2 cup green onions.
–Garnish bowls of soup with sprinkles of green onions, shredded cheese, and bacon.
VARIATIONS:
–Stir in a favorite fresh herb like dill or thyme.
–Add 1-2 cups of chopped ham (omit the bacon garnish).
–Add clams to turn it into a quick clam chowder.NUTRITIONAL INFORMATION for a 1-1/2 cup serving without garnishes:
–using light sour cream: 264 calories, 8.2g fat, 35.3g carbs, 10.7g sugars, 3g fiber, 12.5g protein.  Weight Watchers PointsPlus: 7
–using sour cream substitute (made from cottage cheese): 249 calories, 5.1g fat, 35g carbs, 10.7g sugar, 3g fiber, 15.5g protein; Weight Watchers PointsPlus: 6
–If you garnish your bowl of soup with one crumbled slice of crispy bacon, it adds 31 calories, 2.4g fat,.1g carbs, 0g fiber, 2.1g protein; and 1 Weight Watchers PointsPlus
Source : theyummylife