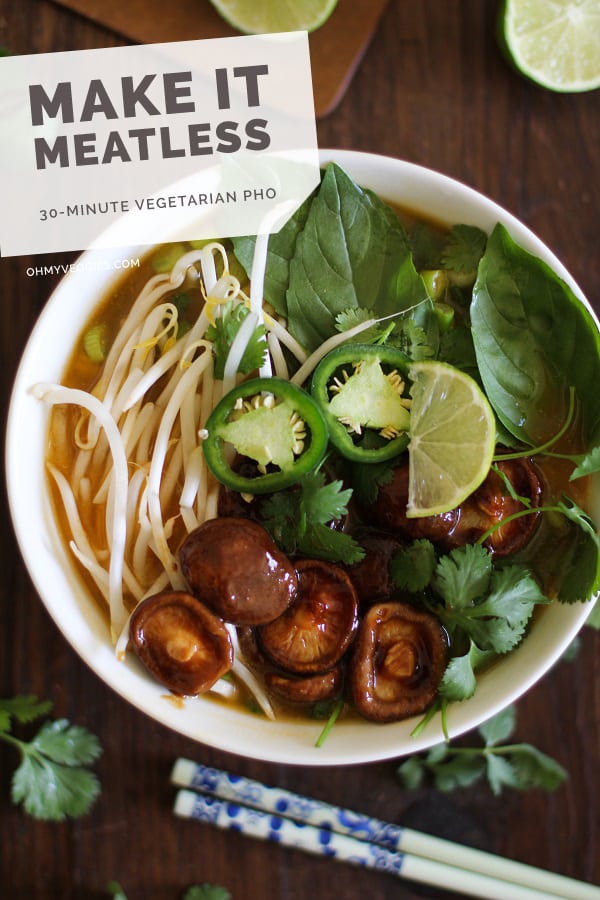 The first time I went out to eat at a Vietnamese restaurant with my family, I was very unsure of what to expect. I had the misconception that the meal would be your run-of-the mill greasy, heavy food, requiring a great deal of extra sweat time at the gym. I was surprised and delighted when I ordered pho soup and was presented with the largest bowl of fresh and flavorful ingredients I had ever happened upon in public.
For those of you who are unfamiliar, pho (pronounced 'fuh') soup is a classic Vietnamese dish. A typical pho includes rice noodles in broth, a combination of raw and sautéed vegetables, fresh herbs, and rare sliced steak. Since we're making this meal meatless, we left out the steak and added in meaty sautéed shiitake mushrooms. I sautéed the shiitakes in butter and hoisin sauce, but you can easily switch out the hoisin for soy sauce or liquid aminos.

The broth for a traditional pho usually involves a whole lot of spices and a whole lot of simmering–sometimes for up to 3 hours if you're making the stock yourself! I wanted to make a pho that was doable for a weeknight meal, so I simplified things by making a quick ginger broth instead. I usually serve my pho with store-bought hoisin sauce and chili garlic sauce so that people can mix and match sweet and spicy flavors as desired.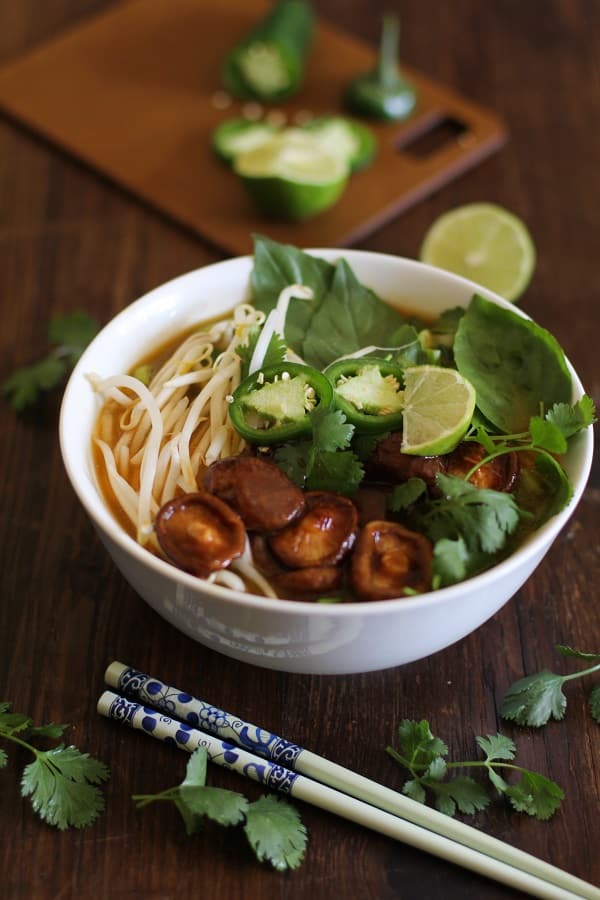 You can easily add your favorite vegetables to this 30-Minute Vegetarian Pho too. Since it is spring time, you can throw in asparagus, snow peas, fennel, or sliced radishes; for summer, try thinly sliced zucchini or yellow squash or green beans. Tofu, seitan, or cooked slices of tempeh can be added to up the protein in this recipe too. Pho is highly customizable, so everyone can assemble their own bowls with their favorite add-ins. Who doesn't love that kind of dinner?!
30-minute vegetarian pho
A streamlined version of pho with a simple ginger broth base and shiitake mushrooms to make it meatless!
ingredients
64 ounces homemade or low-sodium vegetable broth
6 green onions, thinly sliced
1 tablespoon fresh ginger, peeled and grated
Salt to taste
1 1/2 tablespoon butter
6 ounces shiitake mushrooms, tough stems removed
1 1/2 tablespoon hoisin sauce
2 teaspoons sesame oil
14 ounces rice noodles, cooked according to package instructions
8 ounces bean sprouts
2 jalapeño peppers, thinly sliced
Fresh cilantro, basil, lime wedges, hoisin sauce, and chili garlic sauce or sriracha for serving
instructions
In a large pot, combine the vegetable broth, green onion, grated ginger, and salt. Bring to a full boil, then reduce the heat and simmer for 15 minutes.
While the broth is cooking, melt the butter in a large skillet over medium heat. Add the mushrooms and sauté for about 6 minutes, or until tender, stirring frequently. Stir in the hoisin and sesame oil and cook until the sauce thickens and coats the mushrooms, about 1 minute more. Remove from heat.
Divide the rice noodles between four to six large bowls, then fill each bowl with the ginger broth. Add bean sprouts, sliced jalapeños, shiitake mushrooms, fresh basil, and cilantro and serve with lime wedges, hoisin, and chili garlic sauce.

Image and content: ohmyveggies