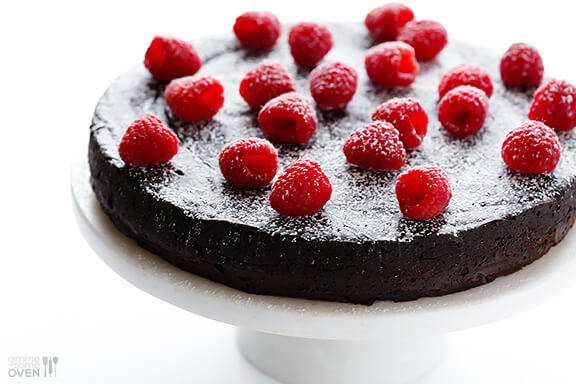 This past Valentine's Day, I decided to remake a golden oldie from the blog to share with my friends.  Partly because it was super easy.  Partly because it's gluten-free.  And partly because, well, it's about as chocolatey as you can possibly get.
We're talking about flourless chocolate cake, people!
I'm sure just about everyone has tried this heavenly dessert before.  But if you've never tried making it, you're missing out.  Because with literally just three ingredients, it's totally do-able.  And just in case you have any questions about how to make it, I decided to snap some step-by-step photos time time around and update this recipe post so that you can see exactly how it's done.
Fair warning though.  Once you know how to make this cake, you're pretty much going to want to make it all the time.  🙂
(Works for me, though!)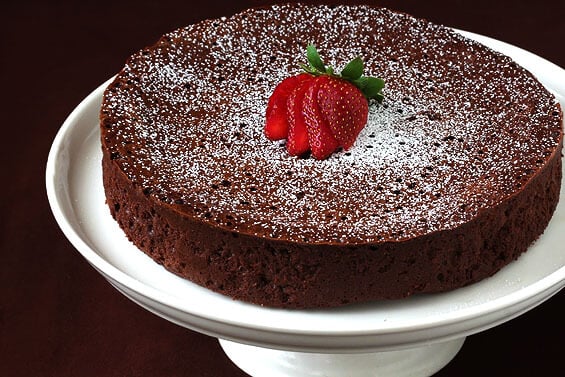 For a little #tbt, here were the photos that I snapped of this flourless chocolate cake when I first posted it three years ago.  They are still some of the top flourless chocolate cake photos on Google…crazy!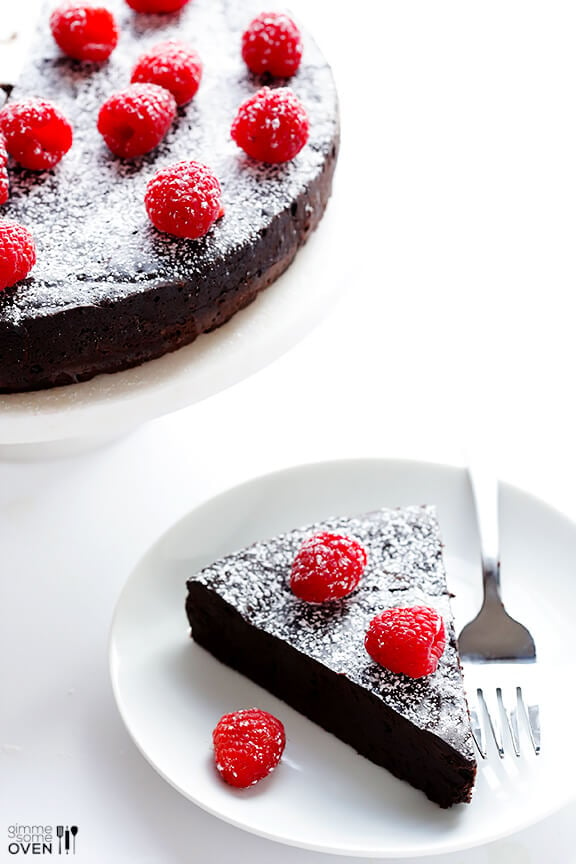 Three years later, I'm obviously on a white-background-white-plates-white-everything kick.  Different berries.  Same rich, uber-chocolatey, gluten-free, and crazy good flourless chocolate cake.  And the same easy directions: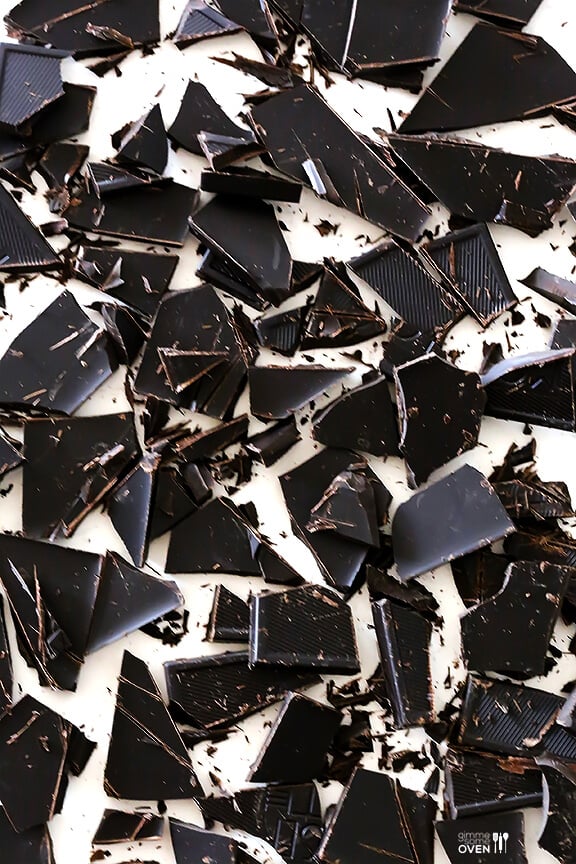 We begin with the rockstar ingredient — chocolate!!!
You can really use just about any chocolate that you'd like in this cake.  I typically go with a really rich dark chocolate.  But I've also made this over the years with a chili-spiced chocolate bars, salted chocolate, toffee chocolate, and even plain ol' semisweet chocolate chips.  They all work wonderfully.  (I would just avoid white chocolate with this one.)
Go ahead and break it into smaller pieces for easier melting, and set aside.
Then it's time to whisk those eggs.  This is 10x easier with an electric mixer of some kind, but if you're feeling extra strong, you can do it by hand.  Basically they need to double in volume, so I usually mix them on high speed for about 5 minutes.  They will also lighten in color and get nice and frothy.
While your mixer is running, add your chocolate and butter to a microwave-proof bowl, and heat in 30 second intervals (stirring in between each) until both are melted.  You can also do this on the stove in a double-boiler if you prefer.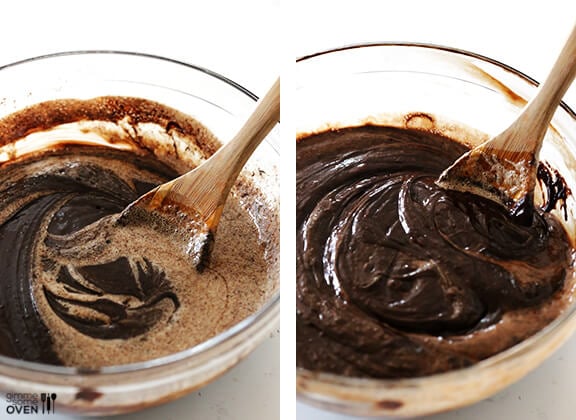 Then slowly fold about 1/3 of the egg mixture into the chocolate mixture, and stir until combined.  Repeat with another 1/3, and then the rest of the eggs until they are all combined.  You want to be nice and gentle with this process, and stir the mixture until it is just combined.  Avoid over-stirring, or those eggs will deflate!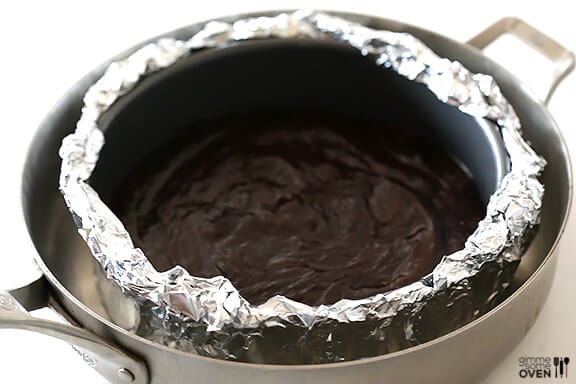 Once your batter is ready, pour it in a springform pan that has been wrapped in two layers of heavy-duty aluminum foil.  The best way to do this is place the pan right in the middle of the foil, and then fold it up all around the edges of the pan.  You want to be very careful that water cannot sneak inside the foil.
Place the springform pan inside some other larger pan (I just use my saute pan).  And then slide it in the oven.  Once it's in there, take a tea pot or measuring cup full of boiling water and very carefully pour the water inside the outer pan so that it creates a "water bath" around the springform pan.  You want the water to come about halfway up the sides of the springform.  Please be very careful with this part — that water is h-o-t.
Then bake it for about 22-25 minutes, or until a very thin crust has formed on top of the pan.  Remove the pan from the oven, once again being very very careful with that hot water, and set it on a wire rack to cool until it reaches room temperature.  The pop it in the refrigerator until it has completely cooled.  And then it's ready to serve!
Clearly, I like to add to the famous 3-ingredients and top my flourless chocolate cake with some powdered sugar and berries.  A chocolate ganache or whipped cream would be great too.  Or it's also fabulous just as it is.
So serve yourself up a slice, and enjoy every last bite.  🙂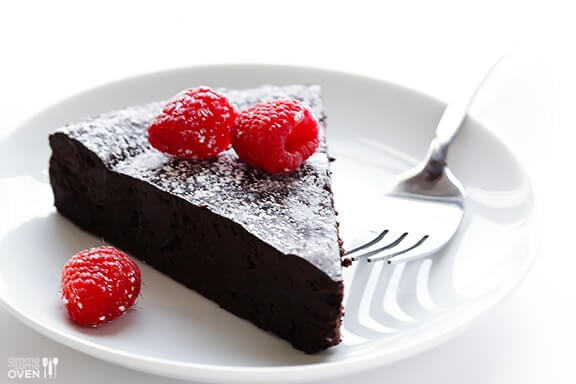 3-INGREDIENT FLOURLESS CHOCOLATE CAKE
A decadent, gluten-free flourless chocolate cake recipe with no added sugar necessary!
INGREDIENTS:
8 large eggs, cold
1 lb. dark, semisweet or bittersweet chocolate, coarsely chopped
16 Tbsp. (2 sticks) unsalted butter, cut into 16 pieces
optional toppings: powdered sugar and/or berries
DIRECTIONS:
Adjust an oven rack to the lower-middle position and heat the oven to 325 degrees. Line the bottom of an 8-inch springform pan with parchment paper or waxed paper and grease the sides of the pan. (Be sure to grease the sides really well!) Wrap the outside of the pan with 2 sheets of heavy-duty aluminum foil and set it in a large roasting pan, or any pan that's larger than the springform. Bring a kettle or pot of water to boil.
In a stand mixer using the whisk attachment, beat the eggs at high speed until the volume doubles. This usually takes about 5 minutes.
Meanwhile, melt the chocolate and butter together. You can either do this in a double boiler on the stove (by placing the chocolate and butter in a large heatproof bowl, set over a pan of almost-simmering water, and stirring until melted and smooth). Or you can do this in the microwave (by heating the chocolate and butter in a microwave-safe bowl in 30-second intervals, stirring in between, until the chocolate and butter are melted and smooth). Then fold about a third of the beaten eggs into the chocolate mixture using a large rubber spatula until only a few streaks of egg are visible. Fold in half of the remaining egg foam, and then the last half of the foam, until the mixture is totally homogenous.
Scrape the batter into the prepared springform pan and smooth the surface with a rubber spatula. Place the roasting pan on the oven rack and VERY carefully pour in enough boiling water to come about halfway up the sides of the springform pan. Bake until the cake has risen slightly, the edges are just beginning to set, a thin-glazed crust (like a brownie) has formed on the surface, and an instant-read thermometer inserted halfway into the center reads 140° F, 22-25 minutes. Remove the springform pan from the water bath and set on a wire rack; cool to room temperature. Cover and refrigerate until cool. (The cake can be refrigerated for up to 4 days.)
About 30 minutes prior to serving, carefully remove the sides of the springform pan, invert the cake onto a sheet of waxed paper, peel off the parchment paper, and reinvert the cake onto a serving platter. If desired, lightly dust the cake with powdered sugar and top with berries. To slice, use a sharp, thin-bladed knife, dipping the knife into a pitcher of hot water and wiping the blade before each cut.