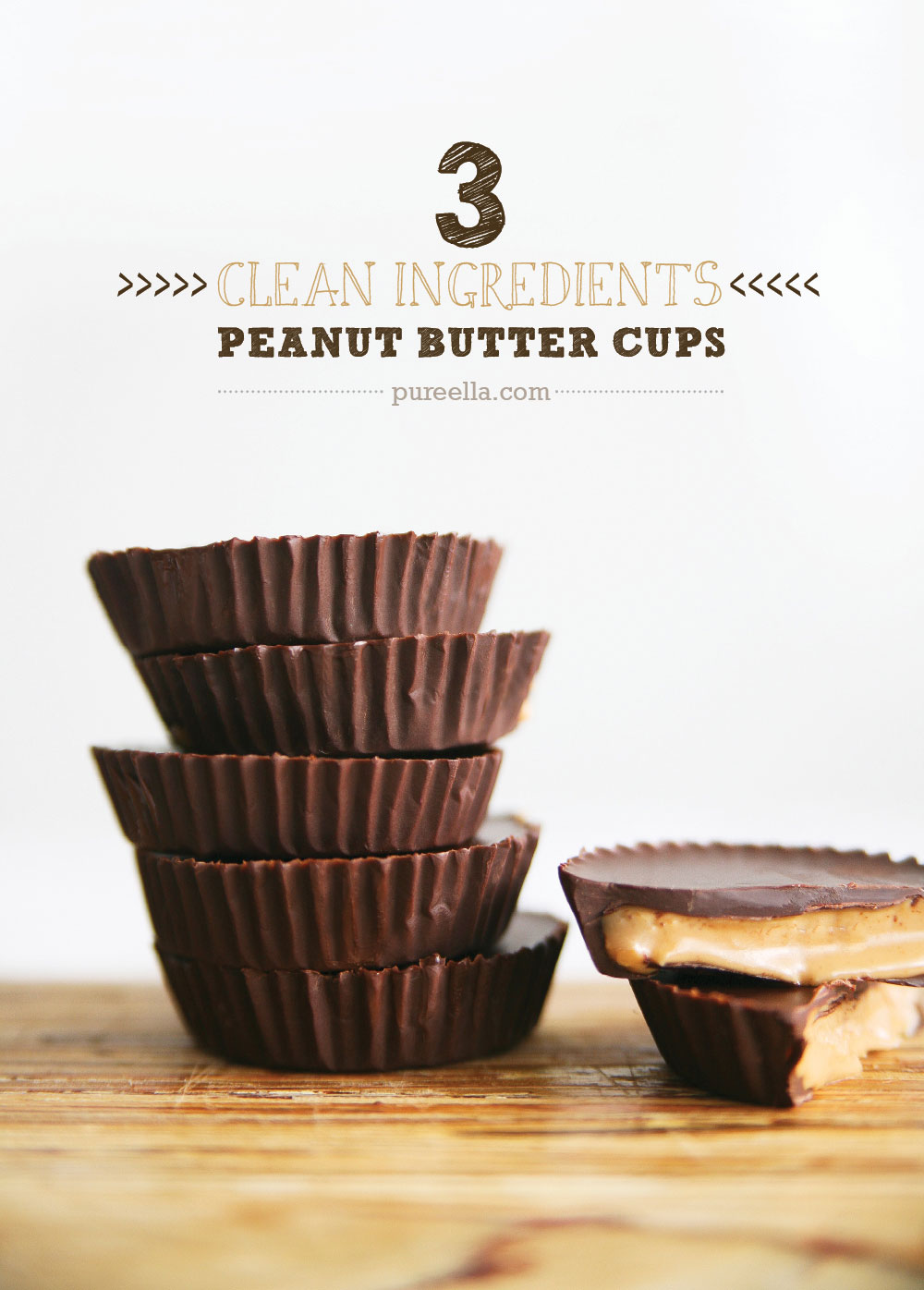 Lately we've been on a peanut butter kick! PB hasn't been a real craze around here for a long time. But once upon a time I was addicted to this stuff. Seriously!
And um… who does not remember their childhood chocolate and peanut butter fave? – the Reese's Peanut Butter Cups? Oh hello! I don't know anyone who didn't love this stuff! Except then you grow up and learn about how disgusting those cups really are.
With a revived craving for Peanut Butter Cups (thank you baby #2) and yet a strong passion for eating *healthy* – I was not going to give up on the joy of biting into a yummy Peanut Butter Cup! No way!
(some of you Insta followers already witnessed my craving here. ps. yes they also go great with a nice bottle of wine – who'd have known 😉 (I had one sip…. eek!)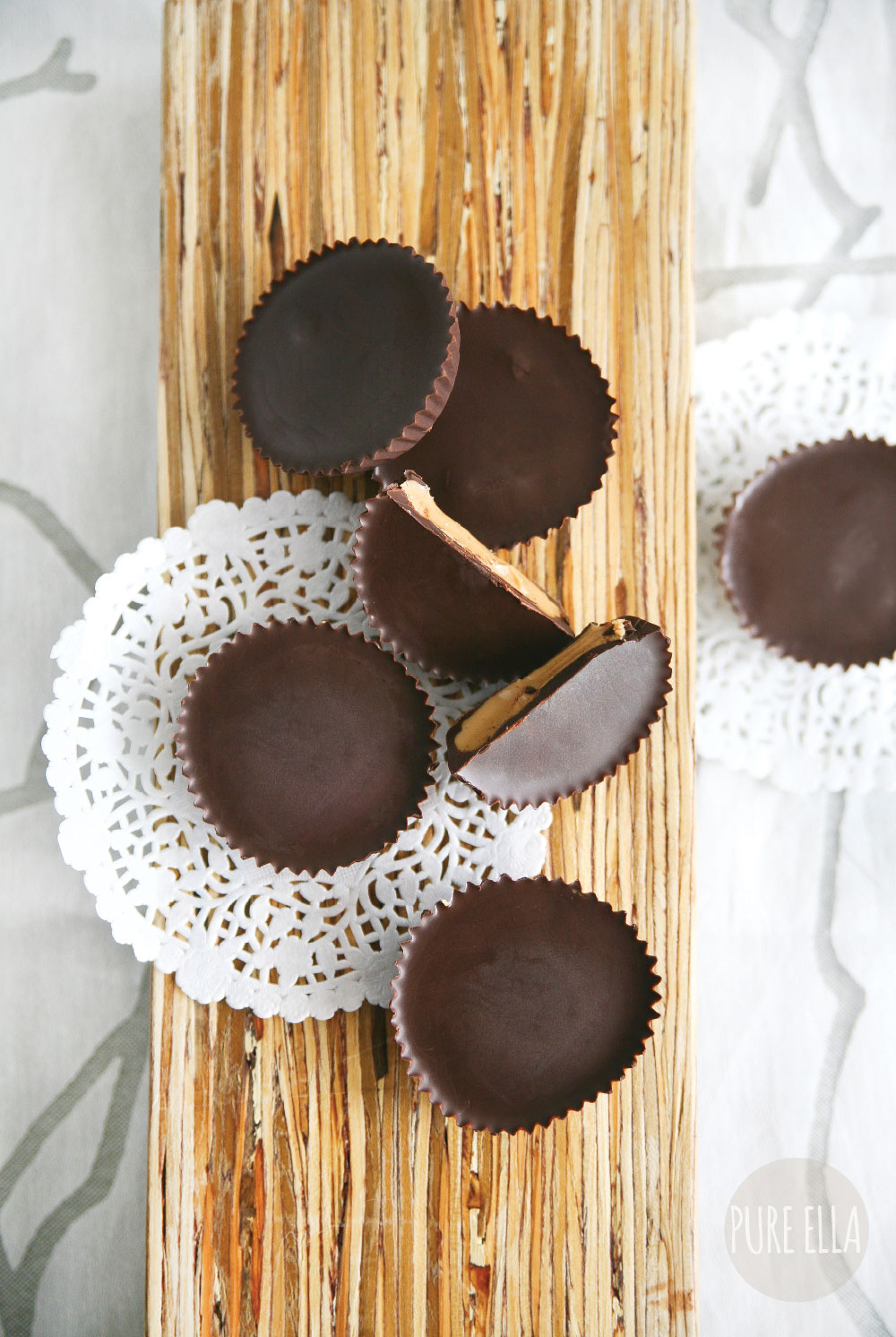 Move over Reese's – these homemade *Clean* Peanut Butter Cups are way better! And they really do contain only 3 CLEAN ingredients! And this recipe for homemade peanut butter cups is really quick and easy to make too! Oh no wonder I've made these almost each day in these last few weeks. Obsessed is not even a good word to describe this. Basically they're so good and kind of good-for-you that it's hard to resist! And the whole 15 minutes-to-make-AND-eat is kind of ridiculous! Good ridiculous 😉
Ready…. go ahead and prep your 3 ingredients and let's make some Peanut Butter Cups! Meet you in 15 for a bite of awesomeness!!! 😉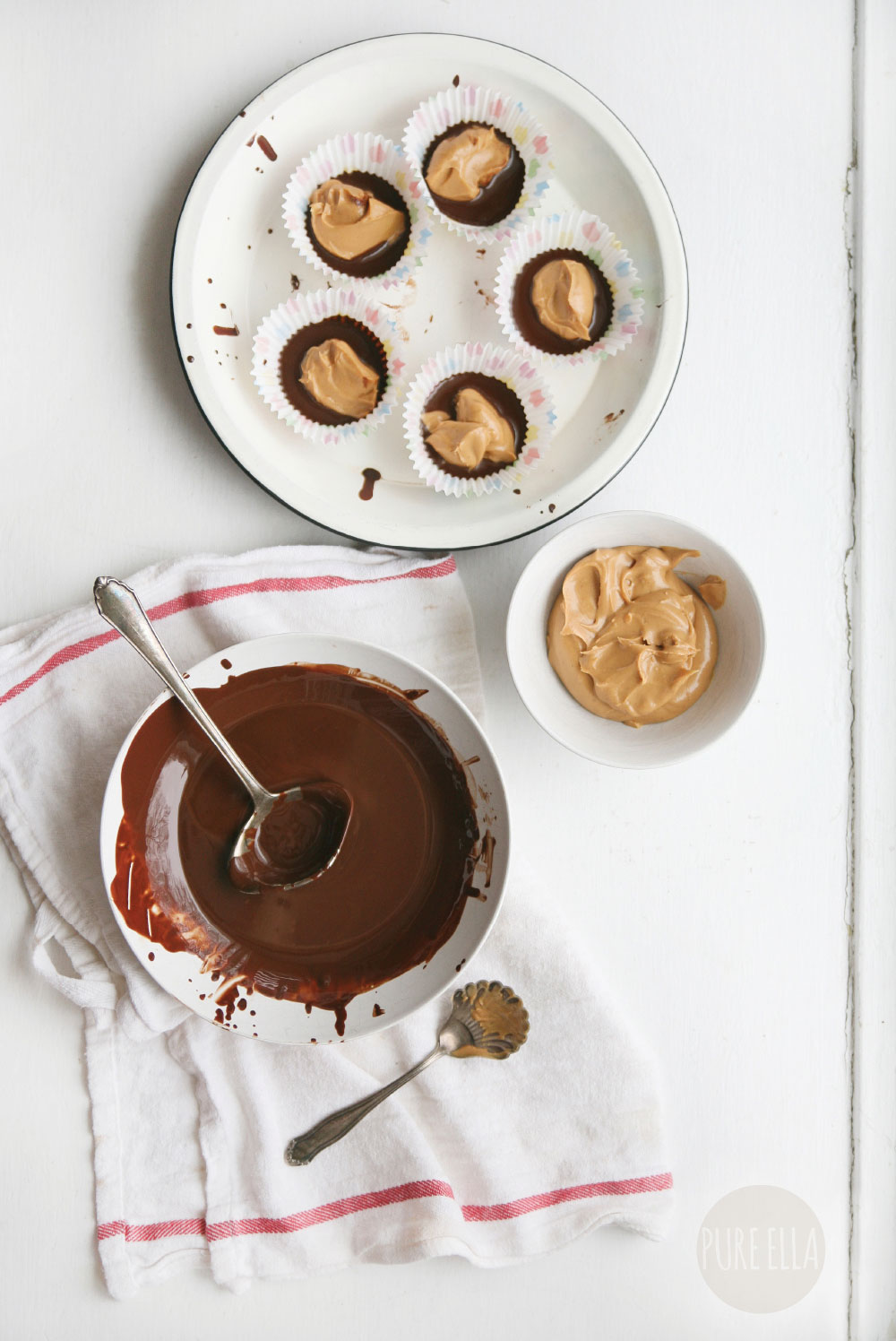 3 CLEAN INGREDIENT PEANUT BUTTER CUPS | VEGAN AND GLUTEN-FREE
YOUR 3 INGREDIENTS ARE:
200 grams 72% dark organic chocolate squares or 1 cup vegan chocolate chips
about 3/4 cups organic peanut butter* (** check for substitutes)
4 tablespoons of coconut oil (divided)
You will also need a double boiler or a small pot with a bowl to melt the chocolate and about 12 paper cupcake or muffin liners.
* do get organic or quality clean ingredient peanut butter from a reputable company. Kraft or Jif does not qualify as "quality".
** if you don't want to use peanut butter, almond butter works great too. And if you want these peanut/ nut free – use sunflower butter.
DIRECTIONS:
First melt the chocolate. Set up the double boiler or pot with water to boil with a bowl on top (be sure the bowl does not touch the water) and set heat to medium high. Add the chocolate squares with 2 tablespoons of coconut oil and allow to melt completely. Stir occasionally to incorporate the chocolate with the coconut oil. Turn off heat and leave on the pot to keep warm.
In a small bowl, scoop out roughly 3/4 cups peanut butter and add in 2 remaining tablespoons of melted coconut oil. Mix well to incorporate and set aside.
Line a flat dish with muffin or cupcake liners. With a spoon, scoop in a little melted chocolate to cover the bottom of each liner. Place in the freezer for about 2 minute to slightly set. Add a small scoop of peanut butter and coconut butter mix in the centre and gently flatten with the back of a spoon. Scoop more melted chocolate to cover the top, about 1-2 tablespoons. Return to the freezer for about 15-30 minutes until serving.
If serving much later than 15-30 minutes. Then be sure to remove them from the freezer about 1/2 hour before serving and removing all the paper liners and placing them in the refrigerator to thaw out a little before serving. (if they appear soft to the touch – pop them back to the freezer for about 5 minutes to harden the chocolate). They are best when the centre peanut butter filling is soft and the outside is crispy chocolate. Makes about 10 cups.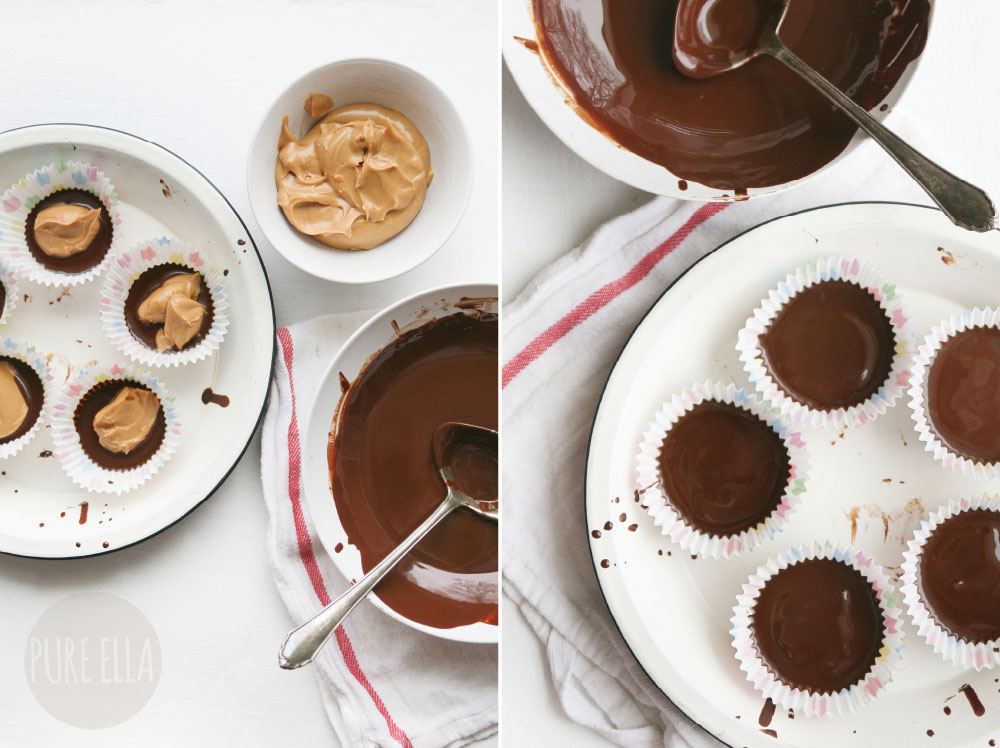 We like to eat them just by the handfuls! (hi hi) or serve with low-sugar Homemade Chocolate almond or coconut Milk. So good!! These don't last long so be prepared for making another batch again and again 😉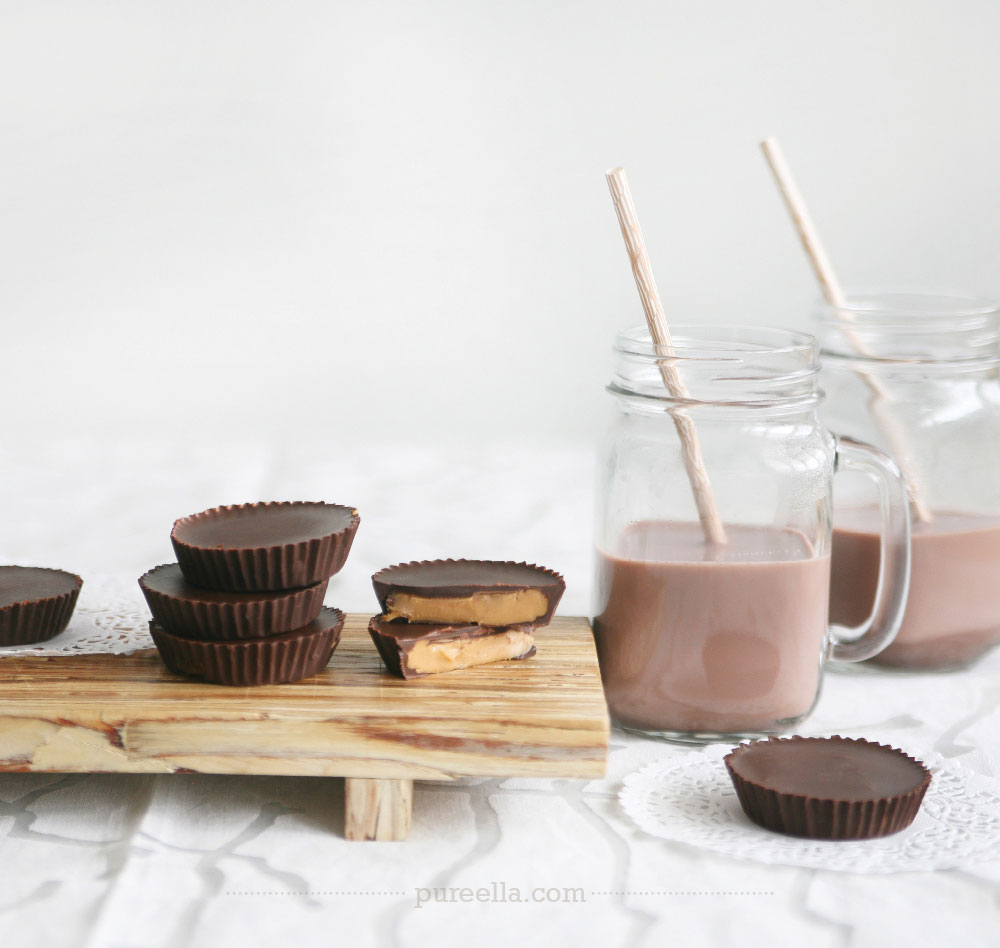 I made these for Super Bowl Sunday because I thought what football fans would not want to bite into their old favourite. They were an instant hit, except my only regret was that I didn't make enough!
In my husband's words at his first bite: "These are way better than Reese's!" – aha! Thank you very much! I think I'll be off now because another craving is growing! You know sometimes 15 minutes is too long 😉
Source : pureella